England travel from their Wembley Stadium home to play Denmark at Parken, where Jack Wilshere will make his first start and Ashley Cole will become the most capped full back in the national team's history.
England v Ghana tickets available from Tixdaq.com
Watch Denmark v England live streaming with GetSport.TV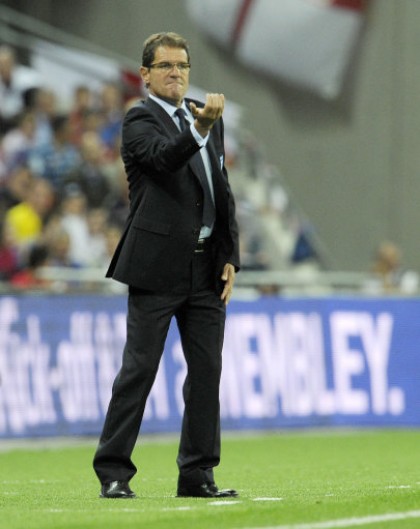 England play Denmark tonight in Copenhagen, with many questioning the value of an international friendly at this stage of the season.
For England and Fabio Capello though, there is certainly much that can be learned, and these are some key questions to be asked of England tonight.
What is England's best formation?
Fabio Capello has also stated that Darren Bent will play up front alongside Wayne Rooney, which suggests that the team will play 4-4-2. Again.
The formation had plenty of detractors in the World Cup, with most teams flooding the midfield and playing a single striker in a dour tournament, but it does have its merits.
Manchester United's best performances this season have come using 4-4-2, and many Red Devils fans believe that their away record might improve if they tried it more often on the road.
Naturally the Wolverhampton Wanderers game somewhat shoots that argument down in flames, but the 2-1 defeat was more about poor performances across the team than the tactics. Wolves just seemed to want it more.
For England it is a similar story.
4-4-2 has often been highly effective at Wembley, with the big man and little man combination a stalwart of England's history, but are regularly overrun by the best teams, such as against Germany at the World Cup.
Perhaps a change is needed.
Arsenal at their best play a flexible 4-5-1 which can morph to 4-3-3 and back, and although they have recently switched to a diamond, Chelsea have also had success with a similar shape. Liverpool have performed well recently using a 3-4-2-1.
Kenny Dalglish has allowed his wing backs to flourish with less defensive responsibility thanks to the three centre backs behind them, and though Glen Johnson has been positioned on the left, he is no longer the source of ire for the fans.
However, Fabio Capello has stated that he made a mistake omitting Theo Walcott from his World Cup squad, and the Arsenal winger is set to start with Johnson behind him.
Walcott has certainly improved his tracking back, but nevertheless performs better with a more reliable player defensively behind him.
The question of England's best formation will likely remain unanswered for a while yet.
How will Jack Wilshere acclimatise to the role of holding midfielder?
Teenage Jack Wilshere has been promised a starting berth at Parken tonight, and the Arsenal teenager will play a deep-lying midfield role alongside Frank Lampard.
He plays in a similar position for his club.
Or does he?
For Arsenal, Jack Wilshere and Alex Song take turns attacking – when one makes a forward run, the other slots in behind.
Generally Song is a greater goal threat, but Wilshere is more creative.
The trouble for England though, is that Frank Lampard – great player though he is – does not tend to function so well as part of a double pivot in midfield.
The Gerrard and Lampard experiment clearly failed for that very reason.
To use Wilshere in this role may nullify one of his most important attributes as a playmaker, and we wait patiently for the likes of Jack Rodwell to step up to senior international level.
Or it might work brilliantly, of course, and I'm just being pointedly cynical.
Which of these players will play in EURO 2012?
Fabio Capello was quite clear about the current status of young English talent, telling BBC Radio 5 Live that only Wilshere and Andy Carroll were ready to play for the senior England team.
New Liverpool signing Carroll is of course injured at the moment, but will likely receive a second call up upon his return.
Capello's words though mean that England will likely be relying on the same players as ever – the Golden Generation – for a while yet.
Many of those will be in the twilight of their career in June 2012. Indeed, the squad taken to the 2010 World Cup in South Africa was the oldest at the tournament with an average of 28.7 years throughout the 23.
In defence, England captain Rio Ferdinand will be 33. Ashley Cole will be 31, as will John Terry.
Two regular fixtures of the England midfield will also probably play their last international tournament. The national side's vice captain Steven Gerrard will be 32. Frank Lampard turns 33 in June 2012. Though he may well have already been superseded in the starting XI by Wilshere, Gareth Barry will be 30, while Joe Cole isn't playing well enough now to warrant a call up at the age of 29. David Beckham is already over the hill.
Up front, Emile Heskey has retired. Peter Crouch will be 31. Jermain Defoe will be 29, and has been woefully out of form anyway, and England will continue to depend on Wayne Rooney.
One can only hope that the aforementioned Rodwell, Phil Jones, Chris Smalling, Martin Kelly, Kieran Gibbs, Josh McEachran, Daniel Sturridge – and even young Alex Oxlade-Chamberlain – begin to prove that they can make the grade.
Capello has been quick to state that evolution rather than revolution is the way forward for England.
The difficulty is, soon it might be the latter that is needed if he is to leave any kind of legacy.
---
Join the Best Football Manager game now, Its Free!