Is this really even a dilemma?
Premier League Tickets Available from Tixdaq.com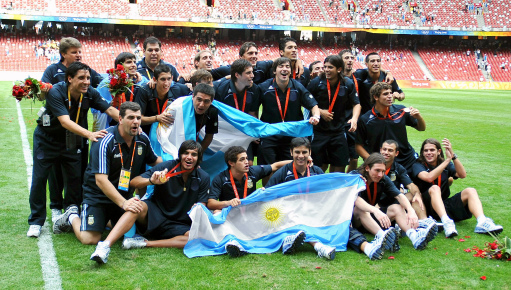 Europe's top football clubs say they are opposed to their players taking part in both the European Championships and the London Olympic Games in 2012.
The Olympics, for players aged under 23, start four weeks after Euro 2012 takes place in Poland and Ukraine.
The European Club Association fears it is too heavy a workload for players.
"It makes no sense for a player to be involved in two major tournaments in such a short period of time," said ECA vice-president Umberto Gandini.
"As the Olympics are not part of the international calendar we are going to face the same situation we did in 2008 [which saw the Olympic Games in Beijing follow the European Championships in Austria and Switzerland], where there will be requests for the release of players where the clubs have other activities going on.
"We have appealed to Uefa to say that if a player is selected for Euro 2012, he should not be selected for the Olympics. We hope we can discuss this without getting into conflict as we did in 2008."
Manchester United chief executive David Gill, speaking in his role as an ECA board member, said the debate was part of a wider concern that clubs did not want their players taking part in more than one international tournament a year.

There is not a national team manager or a club manager who is happy there is an international friendly match on Wednesday. It's just nonsense
ECA vice-president Umberto Gandini
"A player who is in the squad for Euro 2012 should not then be in the Olympic squad," he told a press conference following the ECA's General Assembly on Tuesday.
"Football is a key part of the Olympics and we are very happy to participate as a league and release players, and we support it, it will happen, but I hope that common sense will prevail."
The ECA has also expressed "major concerns" over the way football is run and questioned the way that football world governing body Fifa reaches decisions affecting club football without the involvement of the clubs themselves.
"I wouldn't say we are at war, the clubs are very patient, but we have our limits," said Sandro Rosell, the president of Spanish champions Barcelona and an ECA vice-president. (BBC Sport)
So it seems that all parties are in agreement, so no real conflict of interest here. No organization expects players to take part in both the Euro 2012 and the 2012 Olympics so it seems highly likely that the London Olympics will be a good dropping off point for those who just miss out on selection to their respective national team squads.
Clearly this is a situation that occurs every four years so it's hard to see why the attention that is being lavished on next year's conundrum is any different. Whether the IOC like it or not, the European Championship will always take precedence over the Olympics and whilst the glamour of winning a Gold medal will of course appeal to many it will be far outweighed by the desire to succeed in Ukraine and Poland four weeks earlier.