How much passion is too much? At what point as fans do we look at false idols and think, "you've gone too far there son," or realize a sportsman's ego has exceeded his professional responsibility?
Premier League Tickets Available from Tixdaq.com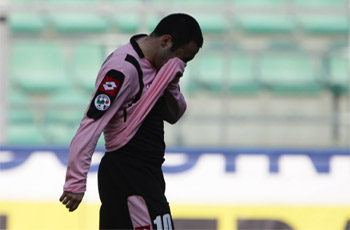 Man United fans must have struggled to defend Roy Keane's horror challenge on Alf-Inge Haland amongst Mancunian brethren in 2001. The fervor spilled over into vitriol in the Irishman's autobiography a year later,
"I'd waited long enough. I fucking hit him hard. The ball was there (I think). Take that you c*nt. And don't ever stand over me sneering about fake injuries."
Inter Milan and Romania defender Cristian Chivu had Inter fans equally ashamed last week when he took issue with Marco Rossi. The Bari defender obviously never learned don't turn your back on any footballer wearing a rugby-style headguard (future opponents of Chelsea keeper Petr Ceck beware), so the Romanian punched him from behind, receiving a 4 match ban for his trouble. After the game, knowing he had been seen by every camera in the stadium and had let down his team and fans he said,
"It is difficult to explain, I am here because I want to apologise to Rossi, with all the dignity that I have left. I apologise to everyone, above all my two children who one day will watch this clip."
Think of the children Cristian!!
Not all "passion" manifests in revenge fuelled violence however. Sunday's game at the Via Del Mare in Lecce, think the heel of the boot in Italy, saw the Giallorossi take on Sicilian giants Palermo. There had been some speculation on SkyItalia before the game Palermo lead striker Fabrizio Miccoli wouldn't play. Not because of injury but his distaste for lining-up against his home-town club. Rumours suggested he'd been meeting and greeting local people in Lecce the night before and his conflicted mental state could lead his omission. In the end he played, contributing little until the 47th minute of the first half. Palermo was 1-0 down until Miccoli despatched a dead-ball into Lecce's top corner. Instead of celebrating with his teammates the Rosanero captain, whose armband has Lecce Ultra colours on it looked as though he'd just opened a brown package and uttered the immortal words, "It means Fabrizio Miccoli sleeps with the fishes."
Moments later the half-time whistle was blown and the Romario of the Salento trudged off and didn't return for the second half. His obvious pain at scoring does make one wonder not only why he took the free-kick but also why he hammered it perfectly into the top corner. Miccoli can't bear scoring against his beloved club, or taking poor free-kicks against them. How noble.
Palermo boss Delio Rossi smudged fears Miccoli forced the substitution today, saying, "No, the substitution was entirely down to a technical decision. At the end of the first half he seemed a little static and I decided to change him. Obviously playing in Lecce is not a game like every other for Fabrizio, but he did his part. If he wasn't prepared for that, then I would not have fielded him."
In the South of Italy it seems professionalism, a contract, thousands of Euros each week and a captain's responsibility to his fans aren't equal to hometown solidarity. So next time you see a new signing kiss his badge think of Fabrizio Miccoli substituting himself in protest at his own wonder goal.
Below is footage of the moment of Miccoli's torment.