Sir Dave Richards rejects bullying suggestions in Wembley's corridors of power.
Barclay's Premier League tickets available at Tixdaq.com
Watch Denmark v England live streaming with GetSport.TV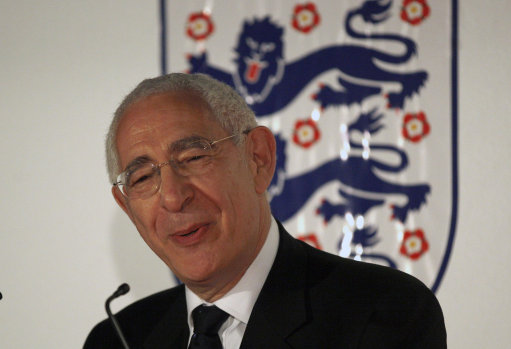 Premier League chairman Sir Dave Richards has denied accusations of bullying Football Association members into blocking reforms.
Former FA chairman Lord Triesman revealed during a Parliamentary inquiry into football on Tuesday that Richards was 'extremely aggressive during discussions'.
Richards admits he always speaks his mind, but insists he never blocked any attempts to reform the organisation and labelled Triesman's claims as 'futile'.
He told ESPN: "Bully the 12 people on the FA Board? Absolutely not. What a futile accusation. I am not a bully.
"We (the Premier League) would not block change because we want change.
"We are a progressive organisation and I was personally involved in changing the constitution of the FA back in 1996 to form the board capable of being progressive."
Richards continued saying the Premier League would fight their corner if the FA tried to control the football leagues.
He added: "The FA is in control of football's governance, football's regulations and of football's discipline, and that is how it should be.
"If the FA wants to run the professional game, the leagues and the Premier League, then we all have a problem because the Premier League won't tolerate that kind of interference and we will fight our corner.
"I attend the FA board meetings about once a month, and I am one man's opinion among a board of 12. But I am entitled to my opinion as a representative of the Premier League.
"For good or bad, I speak my mind, and being a Yorkshireman I might not be as eloquent at speaking as some, but I say it as I see it."
---
Join the Best Football Manager game now, Its Free!