Another failed attempt by Blackburn Rovers to bring a big-name signing to Ewood Park.
Blackburn Rovers tickets available at Tixdaq.com
Watch Blackburn v Newcastle live streaming with GetSport.TV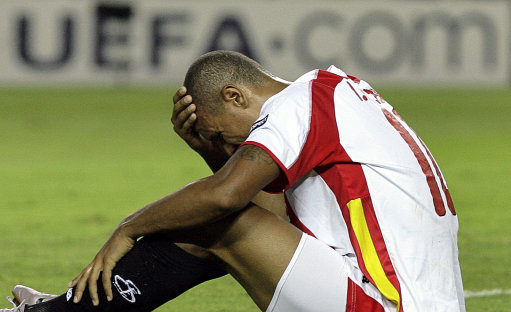 "We did talk with Sevilla about Luis Fabiano. It was after we did not sign Ronaldinho, but we are not interested in signing Fabiano now," said a spokesperson for Blackburn.

"We want to sign a young striker but there are no plans for transfers now. We still have more time."

Source: Lancashire Evening Telegraph
Is this another attempt to gain publicity?
The list of big-name stars Blackburn have failed to tempt to Ewood Park reads: Fabiano, Ronaldinho, Juan Roman Riquelme, Lionel Messi and Diego Maradona (no, not to play but to manage).
On paper what a line-up it could be. In reality it would be an unmitigated disaster.
Imagine the egos. How would honest, hard-working professionals like Ryan Nelsen and Paul Robinson cope with self-centred stars.
But let us all be honest – and that includes Blackburn fans – none of those deals were ever going to happen. South American players notoriously hate cold, wet climates. Playing football next to the Pennines is not what they want.
And it is unfair for Blackburn fans to be treated in this way. Promise of a star player, only for the player to laugh and say no is disrespectful to a proud club.
The owners have to take reponsibility and stop using the club as tool to gain publicity for their chicken business.
No one had heard of Venky's before the takeover and now they are using a Premier League club, with the help of Kentaro Sports Agency, to showcase their company.
They should be looking to progress Blackburn and Europe should be a realistic aim for this club but Venky's are turning Blackburn into a laughing stock.
Show respect to the proud club of Blackburn or Rovers fans should set the foxes after the chicken farmers.
---
Join the Best Football Manager game now, Its Free!