Sunderland face a battle to stop Lee Cattermole from leaving the Stadium of Light and heading south to White Hart Lane.
Tottenham tickets available at Tixdaq.com
Watch Sunderland v Tottenham live streaming with GetSport.TV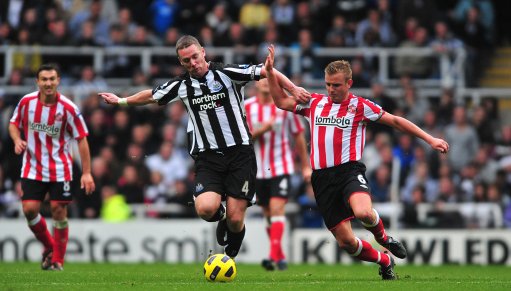 Sunderland are bracing themselves for a summer approach from Tottenham for combative midfielder Lee Cattermole.
The former Middlesbrough enforcer has impressed at each club he has been at with his destructive ability complementing his more unsung talents on the ball. Unfortunately he has shown a distinct lack of composure in his role as ball-winner having seen red on 5 occasions despite being just 22 years old.
However, Harry Redknapp believes that his impetuosity will diminish with maturity and is ready to take a chance on the player. With the jury still out on Wilson Palacios at the top level, Spurs are keen on acquiring a rugged, dynamic central tackler to complement his legion of talented attacking midfielders and he will tempt the Black Cats to sell with a bid of £10m.
Having featured a number of times at under-21 level, Cattermole is desperate to win senior honours with England and would jump at the chance of a move that would give him the ability to showcase his ability on a loftier stage such as the Champions League – should Spurs qualify for next season's competition.
SOURCE: Sportingo
Tottenham manager Harry Redknapp's failed attempts to bring in Blackpool's Charlie Adam on deadline day proved he is on the look out for midfield recruits.
Although Lee Cattermole is a more combative footballer than Adam, he would bring much needed steal to the Tottenham midfield.
The England U21 international has grabbed headlines for the good and bad aspects of his game. He has a bad disciplinary record but with more experience that will be ironed out of his game.
The deal will become more tempting for Cattermole if Tottenham retain Champions league football next season but at the moment both Spurs and Sunderland are occupying Europa League spots.
If this remains the case come May, Steve Bruce, the Sunderland manager who brought the 22-year-old with him from Wigan, may be able to convince Cattermole to stay in the North-East.
But with most things in football, money will talk, and if Cattermole thinks his ambitions will be served better at Tottenham, expect this deal to happen.
---
Join the Best Football Manager game now, Its Free!