Something to get you in the mood before the big Old Trafford kick-off!
Premier League Tickets Available from Tixdaq.com
Watch Man Utd v Man City live streaming with GetSport.TV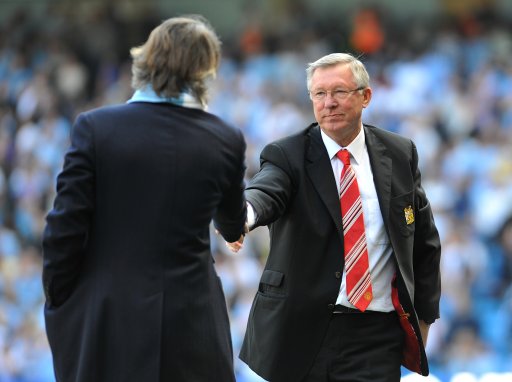 Manchester United veteran Ryan Giggs has stated that if his side loses today's big game then he will not leave his house for a week, which seems fair enough as it is clearly a huge game for all concerned, made all the bigger by the fact that the travelling Eastlands side are looking for the three points that will keep them in the title hunt.
There are a number of battles that will make this game even more of a spectacle. Nemanja Vidic versus United old boy Carlos Tevez will be crucial head to head. Wayne Rooney and Dimitar Berbatov will be looking to get past City's stingy defence which is the joint meanest in the Premier League thanks to consistent displays from keeper Joe Hart and rock solid Vincent Kompany and Kolo Toure.
Expect veteran Giggs to have a part to play and Paul Scholes may also have a big part to play in the centre of the park. Should be a cracker and to get you in the mood here are the highlights of five recent classics.
Manchester United 4-3 Manchester City Premier League September 2009
Manchester City 4-1 Manchester United Premier League March 2004
Manchester United 5-0 Manchester City Premier League November 1994
Manchester City 3-3 Manchester United 1st Division October 1990
Manchester City 5-1 Manchester United 1st Division September 1989