Arsene Wenger will reportedly listen to big offers for Emirates Stadium skipper.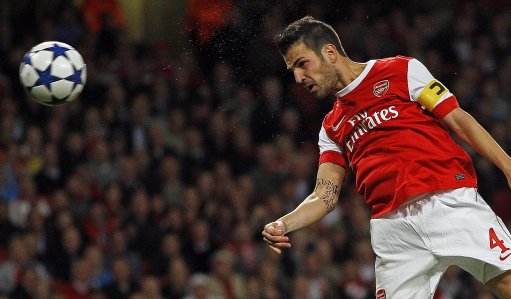 Arsenal will stick to their guns and demand £80million as Real Madrid set their sights on Cesc Fabregas.
The staggering price tag scared off Barcelona when they tried to pinch the Gunners skipper in the summer.
And Arsenal will hope it works again and are refusing to budge on their valuation of Spain star Fabregas.
Real want the former Barcelona babe to join them as the marquee signing for next season, with president Florentino Perez poised to bankroll new stars.
They will go up to £55m – probably enough to see off rival interest from Barca. But it's not enough for Arsenal.
The Gunners want the same world record fee Manchester United got for Cristiano Ronaldo – £80m in cash, with no instalments or player swaps.
Real were ready to offer young Sergio Canales, the Spanish wonder boy who signed only last summer but is ignored by Bernabeu boss Jose Mourinho.
SOURCE: Sunday People
Just how much chance is there that Cesc Fabregas would move to Real Madrid? Really, no chance at all, surely. The Arsenal captain clearly has strong ties to Barcelona and whilst it may seem hard to fathom quite where the 23 year old would fit into Pep Guardiola's all conquering Nou Camp side, if he is to leave the Emirates it will only be to the Catalan giants, no?
Well Jose Mourinho believes he may be able to persuade the talented midfielder to move to the Bernabeu but if he is going to convince the player he must also convince his club and it will take a huge fee to do that, according to this source.
Clearly a transfer window does not pass with much speculation that Cesc Fabregas is to leave Arsenal and next summer will be no different. Arsene Wenger will do all he can to keep his mercurial skipper and the player himself has stated that he wants to win things with the North London club before he even thinks about leaving, but what if he does in fact help steer the club to a Premier League of Champions League title, would he then consider leaving?
Will Real Madrid consider offering £80m for Fabregas? Is he worth that much and if they do make such an offer, would it be too good for Wenger and co. to turn down?
Wenger is apparently looking to freshen up his squad and a number of under-performing players are said to be on his list of potential sales. Andrei Arshavin, Manuel Almunia, Denilson, Nicklas Bendtner and Carlos Vela could all be on their way according to some sources.