We love Spain, we love Spanish football and we love Pizza, do you? If you do, then you really should continue reading!
Domino's, the pizza menu striker, has launched the Spanish Sizzler – a match-winning new pizza to kick-up your taste buds! In celebration, Facebook fans can try the pizza this weekend before it goes on general sale! What better to enjoy with the Spanish footie this weekend! Go to Domino's fan page now.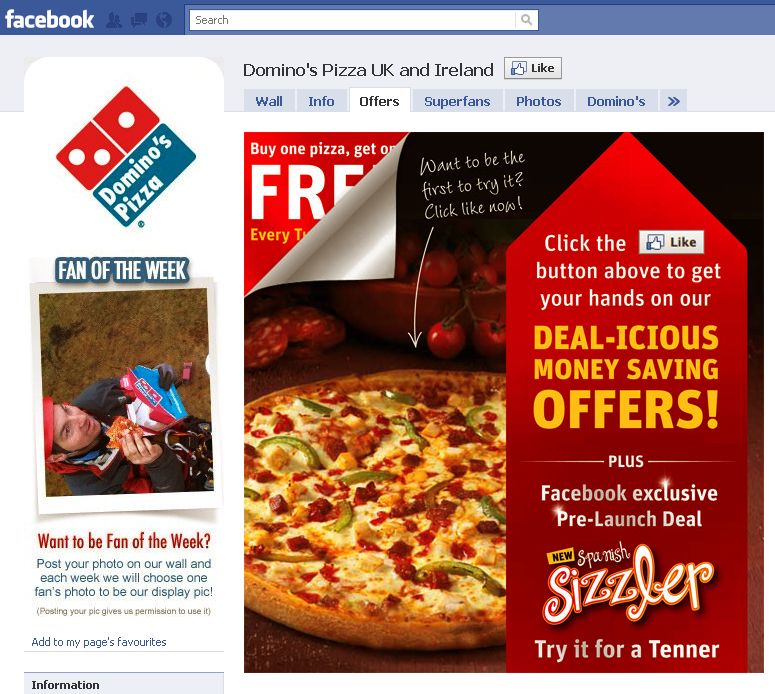 The La Liga seems is once again the spiciest league in Europe and whilst the title race is not exactly hotting up that is simply because Barcelona are just too damn sizzling for Real Madrid to keep up with. That's enough of the ridiculous use of terms to make your mouth whet with the thought of delicious pizza, did it work? I am famished myself.
Now you can get an exclusive preview of the new pizza via Domino's Facebook fanpage. This week, fans of Domino's UK page will be able to order a large Spanish Sizzler at a promotion price of £9.99 and try the pizza before it goes on general sale. To qualify for the offer, fans just need to log on to Facebook and click through to www.dominos.co.uk where the new pizza will automatically be added to their checkout basket. Continue you reading to get your hands on this tasty treat.