Old Trafford boss to make White Hart lane starlet move.
Man United Tickets Available from Telegraph Tickets
Manchester United Vs Marseille Tickets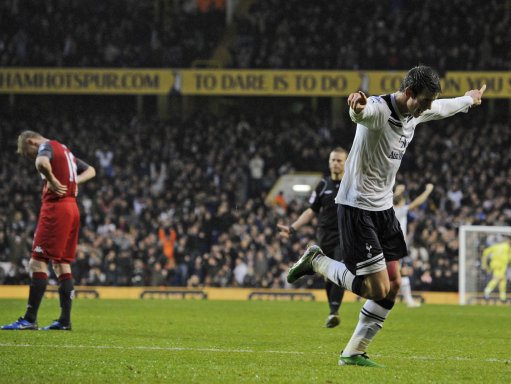 Manchester United have put Tottenham star Gareth Bale at the head of their summer wanted list.
Sir Alex Ferguson will have to pay out in excess of £40million for the exciting Welsh star and will face stiff opposition from the likes of Barcelona and Real ­Madrid.
But Ferguson sees Bale as the long-term replacement for fellow-Welshman Ryan Giggs who is nearing the end of his illustrious career at Old Trafford.
There will be fierce ­competition for Bale who has emerged as one of the most exciting young talents in the Premier League over the last two years.
Spurs have put up the 'no sale' signs around Bale but history shows Ferguson has a habit of getting his man.

SOURCE: Sunday Mirror
Can Harry Redknapp keep hold of Gareth Bale? Clearly the Welsh international has a lot to thank the White Hart Lane boss for, helping reignite a career that has stagnated after an initial run in the first team proved unsuccessful. Manchester United have of course picked up the likes of Michael Carrick and Dimitar Berbatov from Tottenham despite resistance from the North London club, so could this be a case of third time lucky?
The race for a coveted top four spot may well be a crucial factor in the fight for the wide man and Ferguson's chances of snaring Bale would surely increase substantially if Tottenham failed to secure another season of Champions League football.