Contract extension will keep the Bulgarian at Old Trafford until 2014
Man United vs Marseille Tickets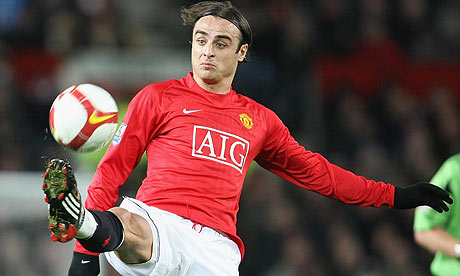 Manchester United have eased Dimitar Berbatov's derby pain by opening new contract talks for the Reds' leading scorer.

It was a bitter-sweet derby weekend for the 31-year-old Bulgarian.

On Friday his agent Emil Dantchev flew into England for a face-to-face meeting with Old Trafford chief executive David Gill – on the very same day Sir Alex Ferguson delivered the news to the 20-goal striker that he wouldn't start against City on Saturday in the key title battle.

On Sunday, however, it is understood that Dantchev and Gill held their initial talks to discuss a new lucrative deal for Berbatov.

The club's record signing joined the Reds from Spurs in August 2008 and signed a four- year deal on his arrival.

That contract is up next summer and United are keen to tie the player down to a new agreement.

Berbatov has enjoyed his best season at Old Trafford this campaign and has already raced past his previous best United goal tally.

His exceptional season, which has included hat-tricks against Liverpool and Birmingham and a club record-equalling five against Blackburn, puts him clearly among the favourites for the prestigious PFA and Football Writers' Footballer of the Year individual honours.

And Fergie is keen to recognise that and recently said a new contract wasn't an issue and would be sorted. The Bulgarian is on an Old Trafford salary believed to be around £100,000 a week, but having seen Wayne Rooney capture a new £250,000- a-week deal earlier in the season, Berbatov could still expect to pocket an extra £75,000 on his current earnings.Source: Manchester Evening News
Despite being dropped for last weekend's derby, Dimitar Berbatov's fine form this season has been rewarded with a bumper new contract.
The new deal which will keep him at the club until 2014 will see his wage rise from £100,000 per week to £175,000.
The interesting point here is the length of the contract being offered.
It is usually Sir Alex Ferguson's policy to offer over 30's a one-year deal, as in the case of Ryan Giggs and Paul Scholes.
But the longevity of these Old Trafford legends has shown Ferguson top stars can play well into their thirties.
But United fans do not be expecting any new deals to be offered to Michael Owen and Rio Ferdinand anytime soon.