With five sides battling for vying for the Champions League spots, have the rest of the English top tier got better or have the heavyweights dropped down a peg or two?
Premier League Tickets Available from Tixdaq.com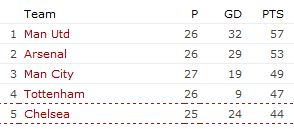 It has been a long time since the Premiership has been so heavily contended by so many teams. Although Man United seem to be the team to catch, all the top five are vying for the vital Champions League places. However, the coming weeks will still hold further twist as turn as many of the top teams still have to face eachother. For example, Chelsea must still play Man United twice, if they won both these games, and their game in hand, they could glose the gap to just four points and be back in the tital run. That depends on Arsenal's results in their matches who have a simpler run in but still have to play Manchester United. All the top five Manchester United, Arsenal, Manchester City, Tottenham and Chelsea have to play at least one match against another team. So much is still possible in this season.
With such competition for the title and the Champions League spots, it is easily becoming a season of unmatched excitement. The question I ask is whether this level of competition is due to a decrease in quality of the top teams, or vast improvement among the peripheral teams in the tital race such as Spurs and Manchester City as they begin to seriously rival the top teams.
In the case of Spurs, their team has vastly improved under Harry Redknapp and is arguably their best Premiership side. The players brought in in recent years have significantly added to the quality in the league. Their performance in this seasons Champions League best illustrates their fantastic growth. There is no doubt that they have began to close the gap on the 'Top five' (that's existence is now beginning to waiver) with great performances against Arsenal and Inter Milan this year. The addition of the World Class Rafael van der Vaart has brought them on to another level and if they continue to improve in the next few years will no doubt begin challenging for the title soon. Their biggest problem may arise if Harry Redknapp leaves for the England job as he has suggested, at the end of next season. Their improved stature will no doubt enable them to bring in someone well up to the challenge if this occurs.
Manchester City are a squad that continues to improve in quality with every signing. Getting all the players to gel with constant arrivals may be the most difficult challenge they face. Not always the most exciting team to watch City can sometimes focus on stifling opponents rather than allowing their quality to flourish and win them games. They have definitely used their huge bundles of money to acquire higher ability players to rival the league leaders. They are more of a team than they were last year and I think there is still more to be seen from players like Silva and Kolarov, as well as new signing Edin Dzeko. If they maintain a level of consistency within the squad, perhaps adding fewer players but with higher quality, they will definitely become more than just 'Noisy Neighbours' for Sir Alex.
The remaining three of the top four currently in the championship race – Arsenal, Chelsea and Manchester United – are a different story. Arsenal's squad has matured this year and are definitely still in the race, they have been very consistent this year and have the opportunity of some Silverware that the clubs supporters long for. They have improved upon recent years and look like real solid contenders this year. Chelsea made the biggest signing of the January transfer window in Fernando Torres as they look for replacements for what is a very ageing squad. They have finished in the top 4 since the 2002/03 season and after curbing their spending in recent years their squad has aged. This year has at times looked like one of their weakest squads, in terms of the players available on the bench. Despite ageing their team still have the quality to mount a challenge for the title as everyone thought at the start of the year, but they have slipped away. This is not down to decreasing quality as they have the same team that won the league just last year.
Liverpool are still worth a mention as despite a couple of rough years, things may be starting to look up. With some new players over the summer financed by their new owners I am sure they will back in amongst it next season. They will need to work hard to keep the influential Pepe Reina if they fail to gain Champions League qualification this year. If they keep hold of him, and Kenny Dalglish in charge, who seems to have reinvigorated the side somewhat, they will be a more solid team.
This season has been great so far, with any team capable of beating another, Wolves and Blackpool have been great examples of this with some fantastic wins. The top 4 spots are being heavily contested this year and has created a thrilling season. This competition is without doubt down to vast improvements to Spurs and Manchester City teams and not declining quality in the top teams. The coming games listed below will be the most pivotal matches in deciding who finishes where this season. The improving quality is without question only beneficial to the English game and is going to make for a fantastic finish to the season. If Liverpool can get themselves out of their current rut, next year may well prove to be even more exciting. They could also play a big role in how the league ends up this year. I certainly can't wait!
1 March 2011: Chelsea vs Manchester United
6 March 2011: Liverpool vs Manchester United
20 March 2011: Chelsea vs Manchester City
10 April 2011: Liverpool vs Manchester City
16 April 2011: Arsenal vs Liverpool, Manchester City vs Spurs
30 April 2011: Arsenal vs Manchester United, Chelsea vs Spurs
7 May 2011: Manchester United vs Chelsea
15 May 2011: Liverpool vs Tottenham