Christain Eriksen will reject moves to Anfield, Emirates and Stamford Bridge to stay at Ajax.
Premier League Tickets Available from Tixdaq.com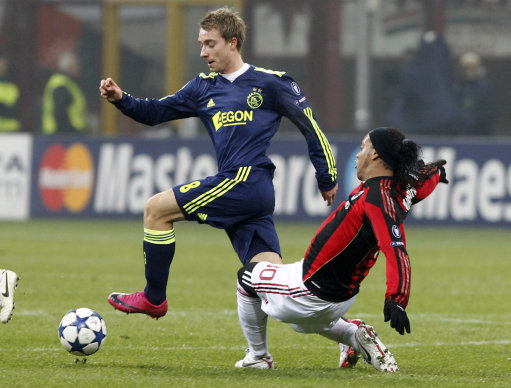 Christian Eriksen has warned his trio of Barclays Premier League suitors against trying to sign him in the summer and insisted he will remain at Ajax for at least another 18 months.

Ajax's teenage prodigy, who turns 19 on Valentine's Day, could take his pick of Arsenal, Liverpool or Chelsea at the end of the season after underlining his potential for Denmark against England on Wednesday.

Eriksen freely admitted he may still be too frail for the demands of English or Italian football as he explained why he feels duty-bound to continue under the tutelage of Frank de Boer for the foreseeable future.

While former Ajax coach Martin Jol felt Eriksen needed a break from the first team, and relegated him to the reserves, after handing him his debut 13 months ago, de Boer immediately restored him to the starting line-up and has kept him there since.

'I owe the boss and am happy to continue progressing under him,' he said. 'I know what stage I am at in my development, and I know I am not ready yet for the Premier League in England or Serie A in Italy.

'I have a lot more growing up to do first, and I am at the right place for that at this club and with this manager.

'One thing I know is that I will stay at Ajax for at least another season after this one.'

AC Milan asked about him towards the end of last month but were given short shrift by de Boer, who said: 'There is no doubting his talent. He has a magnificent touch on the ball and magnificent eye for a pass. He can become another Wesley Sneijder, but there is still some developing to do, and it is best done here.

'He will be here until the end of next season at the very least. He wants that and we do, so that's what will happen.'

Ironically for Liverpool, who sent coach Sammy Lee to watch Eriksen in Copenhagen on Wednesday, Ajax would not even be susceptible to an inflated offer this summer after pocketing around £23m from the Anfield club for Luis Suarez last month.

Source: Daily Mail
So according to Christian Eriksen he will be staying at Ajax for another 18 months.
He would not be the first player to say he would stay at a club before moving at the first opportunity (eg. Cristiano Ronaldo to Real Madrid and Fernando Torres to Chelsea).
But in Eriksen's case there are several more points to consider than just the player's wishes.
The young Danish international should be commended for his loyalty and maturity but in the murky world of football politics this counts for very little.
Ajax, the Dutch giants, are in €30million debt. The selling of Luis Suarez has obviously helped fill the money void but in terms of bringing players in they do not have the funds to do so.
Traditionally they have been a selling club too. The likes of Johan Cruyff, Marco Van Basten and Dennis Bergkamp all came through the youth system but went on to become stars of other clubs.
This indicates the club will definitely sell him before his contract expires in 2014.
And with the likes of Chelsea and Liverpool reportedly willing to offer a lot of money to secure his services, Ajax may be tempted to sell sooner rather than later.