Katy Perry attempted to disparage rumours her marriage was in trouble.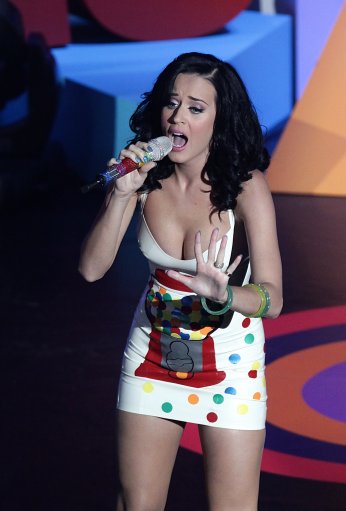 Despite a report in the Daily Mail that their marriage is on the rocks, Katy Perry showed at the Grammys that she and comedian husband Russell Brand are still going strong.
She performed her hit single Not Like The Movies to a backdrop of her wedding ceremony in India, with Brand watching in support in the crowd.
Perry just lost out in the Album Of The Year category to Arcade Fire, but gained herself plenty of fans with her live performance.
Katy Perry tickets are on sale now for her UK tour dates, which will take place in both March and April as well as October and November.
Hammersmith Apollo, London – 17th, 18th, 19th March
Apollo, Manchester – 21st, 22nd March
Echo Arena, Liverppol – 27th March
O2 Arena, Dublin – 28th March
Trent FM Arena, Nottingham – 30th March
BIC, Bournemouth – 31st March
Cardiff International Arena – 1st April
Metro Radio Arena, Newcastle – 3rd April
LG Arena, Birmingham – 4th April
SECC, Glasgow – 5th April
Wembley Arena, London – 9th April
Motorpoint Arena, Sheffield – 12th October
Echo Arena, Liverpool – 18th October
Cardiff International Arena – 19th October
Odyssey Arena, Belfast – 24th October
NIA, Birmingham – 26th October
Metro Radio Arena, Newcastle – 27th October
Aberdeen Exhibition Centre – 29th October
MEN Arena, Manchester – 31st October
SECC, Glasgow – 3rd November
Trent FM Arena, Nottingham – 5th November
O2 Arena, Dublin – 7th November