Arsenal are again challenging Manchester United at the top of the table, just as they did in the late 1990s and early noughties.
But Gunners fans have not witnessed any silverware at the club since they moved to the Emirates stadium.
In Arsene Wenger the fans most definitely do trust but here at COS we decided he needs a hand in rooting out the dead wood at the club.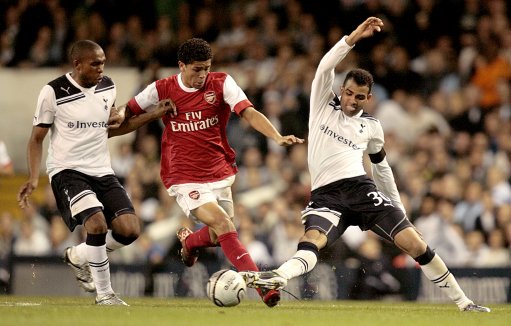 Denilson
The most derided Arsenal player at present. Alex Song's importance for Arsenal is highlighted even more as the only recognised back-up is the Brazilian. Denilson has been at the club for the same time as Cesc Fabregas but the holding midfielder has not developed at all. His passing slows Arsenal's game down – as it is too side-to-side and not forward – and he is not quick enough to cover the ground that Song does. Get rid, Arsene!
Manuel Almunia
Started the season as number one but he is now considered third-choice goalkeeper – and only because Lukasz Fabianski is injured for the rest of the season. Almunia was blamed for the mistakes that cost Arsenal vital points last season in their chase for the title. Critics said Arsenal would never win the Premier League without a good goalkeeper. They meant – Arsenal would never win the league with Almunia in goal.
Carlos Vela
With the much loved Eduardo leaving last summer, it was Vela's chance to fulfill his potential in an Arsenal shirt. It has not worked as he looks too lightweight for the Premier League. A move to West Brom is his last chance to impress as he will get the game time he craves. But with four strikers still at the club and the impressive Jay Emmanuel-Thomas knocking hard on the door, Vela could be heading for the exit.
Sebastien Squillaci
Signed from Sevilla for £4million last summer, Arsene Wenger may have been ripped-off. Has the Frenchman ever headed the ball in his life? His lack of domination, aerial or otherwise, has cost Arsenal, most notably in the calamitous 4-4 draw with Newcastle. Wenger bought him to act as experienced cover but why not get a player with Premier League experience?
Tomas Rosicky
Still adored by the Gunners faithful but at the age of 30, and with his history of horrific knee injuries, the best days of the Czech star are behind him. Rosicky still has the eye for the killer ball but seems to have lost a yard of pace and in the Arsenal midfield being able to find half-a-yard is essential. When was the last time he scored a trade-mark 30 yarder?