Moroccan striker is struggling to adjust to life at the Emirates.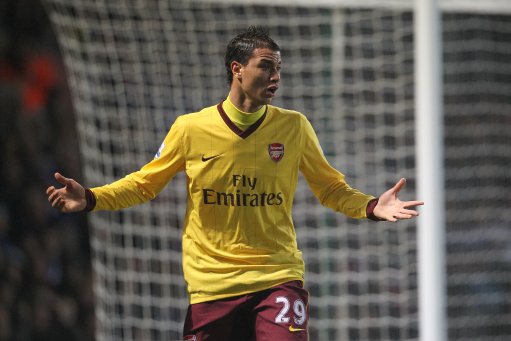 Arsenal striker Marouane Chamakh admits he is not ready for the rigours of the Premier League.
The Morocco international, signed last summer on a free from Bordeaux, is struggling to cope with the pace and constant flow of matches in the English game.
Arsenal manager Arsene Wenger has rested him in recent weeks as Robin Van Persie has been in such terrific form.
Chamakh started the season promisingly with 10 goals to his name and an ability to win his side penalties.
The 27-year-old believes he is still short of the required level needed at Arsenal but feels he is getting stronger and will battle with Nicklas Bendtner for a place on the bench.
"By the start of January I felt that I had completely lost my edge," he said. "It was there for all to see. I am only human, so I've been given some rest. Besides, Arsenal have been able to profit from Robin van Persie's form.
"It is a blessing in disguise, as the team is doing well and I'm able to get some rest. I hope to play again soon, but it could be in March rather than February.
"But it is not serious. I am here to learn, both in training and matches, and also to improve my game and to acclimatise to London and English football.
"God willing, it will not take too long to happen for me.
"I am fully aware of my new status as a substitute since Van Persie's return to the side. Besides, Nicklas Bendtner is a sub as well. But it is all about what the players do out on the pitch. I am not worried."