Emirates midfielder returns to Arsenal's Champions League squad ahead of schedule following injury.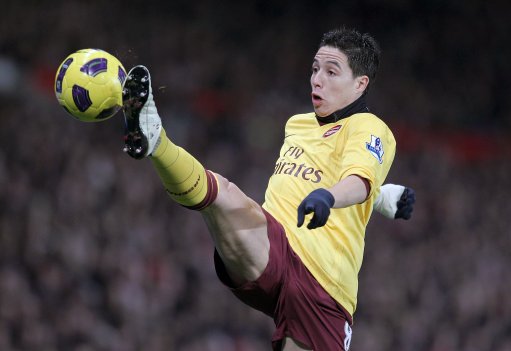 Arsenal manager Arsene Wenger has included Samir Nasri in tomorrow's Champions League squad to face Barcelona.
The Frenchman was expected to miss the game with a hamstring injury picked up in the 2-1 FA Cup win over Huddersfield.
But the 23-year-old has made a quick recovery and after training with the rest of the team on Tuesday, Wenger has included him in the squad.
Nasri's return is a major boost for Arsenal as he has been the outstanding player of the season so far in the Premier League.
There is other good news for the Gunners with Tomas Rosicky being available after recovering from a groin injury but Abou Diaby is out with a calf problem.
"Samir is in the squad and the starting line-up will be decided tomorrow," said Wenger.
"I will take no medical risk. It's good to have him in the squad. He's recovered quicker than expected. I said it would be 21 days but it will be only 17 days.
"Everybody is absolutely adamant that he's completely medically available. It's down to me to make the decision.
"Rosicky is available. He is in the squad. Diaby is out with a calf problem he did with the French national team."