Time for the use of obligatory archive picture of Rab C. Nesbitt.
Premier League Tickets Available from Tixdaq.com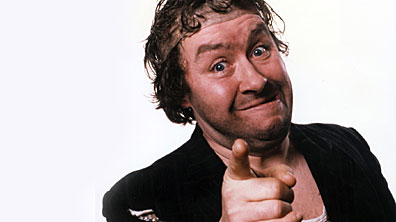 AC Milan captain Gennaro Gattuso has apologised for head-butting Tottenham coach Joe Jordan after a 1-0 loss in the Champions League last-16 first leg.
Italy international midfielder Gattuso squared up to the 59-year-old Scot and pushed his head towards Jordan's face.
The 33-year-old ex-Rangers player looks set to be disciplined for his actions.
"I lost control," said Gattuso, who had earlier pushed Jordan in the face. "There is no excuse for what I did. I take my responsibilities for that."
The Italian added: "I was nervous. We were both speaking Scottish, something that I learned when I played in his home city of Glasgow, but I can't tell you what we said.

"I didn't want to argue with players and I did it with him, but I was wrong to do what I have done. I will have to await what they decide." (BBC Sport)
So what exactly were the pair saying to each other in 'Scottish'? Whatever it was, it didn't look to civilised but Gennaro Gattuso's attempts to justify or indeed even explain his actions are a little half hearted to say the least. The AC Milan man knows he was in the wrong and has more or less accepted that fact, but what exactly got into the Italian international?
Everyone knows he can be a fiery character but last night he was in extra crazy mode and was a liability for his club and the fact that he is suspended from the return leg at least removes the possibility for a revenge mission by Joe Jordan.
If Joe Jordan and Gennaro Gattuso were to stumble upon each other in a dark alley, I know who I would have money on surviving the encounter.