Sir Alex Ferguson wants to bring Bernabeu left back to Old Trafford as part of any deal to sell Patrice Evra.
Manchester United V Marseille Tickets available as Tixdaq.com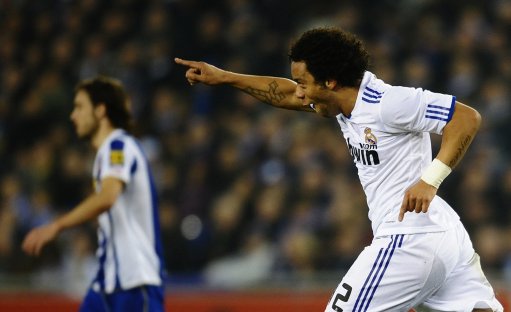 Manchester United will demand Marcelo from Real Madrid as part of any deal to take Patrice Evra to the Santiago Bernabeu.
Rumours have been gathering that Real are ready to swoop for the former France captain as part of their summer rebuilding programme. Evra's performances have been below his usual high standard this season which has only accelerated the idea of him leaving United after five years at Old Trafford.
However, Sir Alex Ferguson is not going to let his man go without a little negotiation and he will demand the current left back at Los Merengues in return. Marcelo is enjoying an excellent season in the Spanish capital and he grabbed a vital goal in the 1-0 win over Espanyol on Sunday as Jose Mourinho's men closed the gap on leaders Barcelona to five points.
Madrid would be understandably reluctant to let him go and they might even demand Evra plus a fee in order for the deal to go through.
SOURCE: Sportingo
Real Madrid boss Jose Mourinho has been tracking Manchester United's consistent left back Patrice Evra for some time, first whilst at Inter Milan and now during his spell at the Bernabeu and some reports suggest that the French international would be interested in a possible move to the La Liga giants but only if such a sale had the blessing of Old Trafford boss Sir Alex Ferguson.
Evra has immense respect for the Scot and after just over five years at Man United the former Monaco man may be looking to try a new challenge but according to this source, Ferguson would only consider such a deal if £25m rated Brazilian international full back Marcelo was part of a swap deal.
It may be an offer that Jose Mourinho considers as he may feel that whilst the 22 year old former Fluminense may be considerably younger than Evra, the 'Special One' may feel that the Man United man is a more solid player to have in his back four and given that the Real Madrid boss has always been well known for having a cautious approach to the game, such a swap deal may be of interest.
Clearly such a deal may struggle to get off the ground due to the much publicised bad blood between the two clubs in relation to previous sales of Old Trafford players to the Spanish capital but it is also true that Mourinho and Ferguson enjoy a very good personal relationship.
The Manchester United boss is also looking to freshen things up at the Premier League table toppers and a number of the club's squad may be offloaded in order to build for a new generation of talent. The likes of Wes Brown, Michael Carrick, Michael Owen and Paul Scholes may all be on their way out and squad players like Darron Gibson and Tomasz Kuszczak may also be leaving.
This source suggests such a deal could take place and if indeed Patrice Evra was sold to Real Madrid it would seem plausible that Ferguson would demand the Madrista left back in return.