Nou Camp boss admits to travel frailty but says his players are strong and will set the record straight at the Emirates.
Barcelona v Arsenal tickets available at Tixdaq.com
Watch Arsenal v Barcelona live streaming with GetSport.tv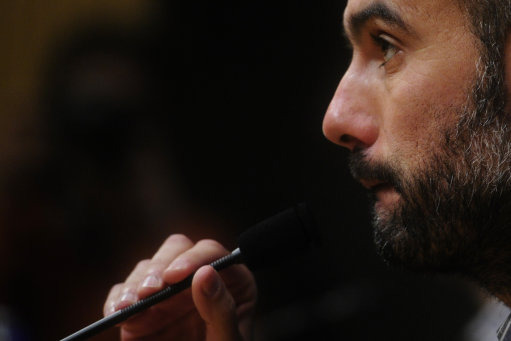 Barcelona will not hide if Arsenal make their Champions League game a bruising encounter according to manager Pep Guardiola.
The North London club will be out for revenge after being eliminated by the La Liga champions at the quarter-final stage last year.
Arsenal midfielder Jack Wilshere admitted the Gunners would front-up and get in Barcelona's faces in order to stop the Catalan giants from playing.
But Guardiola is confident his team will be more than a match for any physical battle Arsene Wenger's side may adopt.
"They're welcome to do so but we're waiting for them," said Guardiola. "Last year they were also aggressive to do it but they couldn't get the ball. We took it off them.
"They came out to press and be physical, but we had the ball so they were forced to run after it.
"I imagine they will try to press us like they did last year, or even more, as they don't want to lose again."
Barcelona have shown a vulnerability away from home in Europe this season as they did not win a game away from the Nou Camp in the group stages.
But the manager is not worried about it.
"This is the best moment to break this record," Guardiola added. "But all those games we lost or drew also were good moments to break this streak.
"At times we've played well away from home, at times not, but of course it's something we have to be conscious of.
"But I'm not expecting a comfortable or easy game, nor will it be decided at the Emirates. The tie will be decided at the Nou Camp in three weeks."