Barcelona aligned newspapers blame referee for Arsenal turnaround at the Emirates Stadium.
Arsenal tickets available from Tixdaq.com
Watch Arsenal v Stoke live streaming with GetSport.TV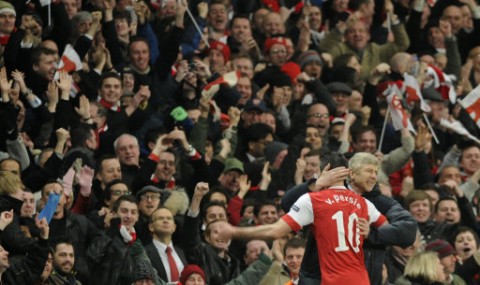 They aren't used to losing in Barcelona – and it certainly told in the reaction in the Catalan press.
Both Sport and El Mundo Deportivo blamed the officials for Barca's 2-1 defeat to Arsenal – a side so consistently damned as 'Barcelona lite' in the past.
The criticism was that Barcelona had a goal disallowed for offside, Pedro called offside when through on goal, and numerous penalty shouts turned down.
In the case of the chalked off goal, it was nearly impossible to tell even in slow motion, for ITV repeatedly paused their replay slightly too early.
The point they wanted was when the ball deflected from Pedro into Lionel Messi's path, but the replay shown always paused on his previous touch when he shot into Szczesny.
Having viewed it later, Messi was in fact level with the ball when that final touch was made. However, in real time and with no Arsenal defenders behind, it was a mistake that the best of officials could quite easily make at such speed.
Even if Pedro was on side, he handled the ball as he ran towards goal – an instance curiously omitted from the article.
As for the penalty shouts, the only moment that Arsenal perhaps deserved penalisation for was when Andriy Arshavin headed onto his own arm late on and almost let in Dani Alves.
However, with no Barcelona player appealing, referee Nicola Rizzoli was hardly likely to point to the spot.
Sport recalled a favourable decision made by Rizzoli towards Jose Mourinho in 2009, using this as indication that he was aligned with the Real Madrid coach and thus anyone opposing Barcelona.
"The friend of Mourinho blew everything against Barcelona" was their rather sensationalist headline, which is basically questioning the integrity of the officials.
El Mundo Deportivo was a bit more restrained, electing against questioning the neutrality of the Italian referee and his assistants, but still claimed "The referee gives life to the Arsenal v Barcelona tie," as the two legged duel was effectively over without the referee's role.
What made Arsenal's win all the more special was that they actually beat Barcelona by playing their own game.
Barca of course had 61% of possession, according to UEFA.com, but nevertheless Arsenal outpassed them at times, and both goals were the result of excellent passing moves.
What team can say that they have done that against this Barcelona team?
Immense performances from Wojciech Szczesny, Laurent Koscielny and Jack Wilshere in particular ought to be acknowledged ahead of the second leg when they will have to do it all again.
The mantra that losing with class is equally as important as winning holds firm here.
Barcelona's holier than thou motto 'mes que un club' (more than a club) holds no grounds if that is how they react to a loss.
Thankfully the team themselves represented themselves better than their press.
---
Join the Best Football Manager game now, Its Free!