Former Anfield co-owner will seek damages claim over Liverpool's sale to NESV.
Premier League Tickets Available from Tixdaq.com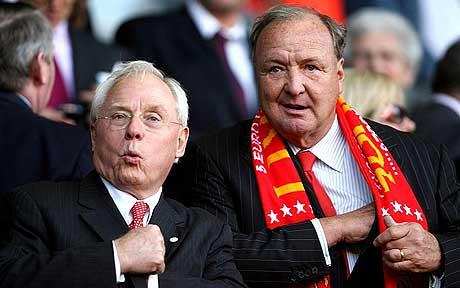 Former Liverpool owner Tom Hicks was given permission to claim damages over the sale of the Premier League club by a High Court  judge in London.
Mr Justice Floyd did not lift the anti-suit orders but varied the injunction, allowing the American to make applications in the USA in support of any proceedings in this country providing he gives seven days notice to the parties he sues.
The judge also dismissed an application to strike out by former Anfield chairman Sir Martin Broughton, who claimed damages against the former co-owner.
But Floyd did allow NESV's application to join the Broughton action.
Hicks believes he was the victim of an 'epic swindle' when Liverpool were sold to New England Sports Ventures last year, claiming he lost £140million in the £300million takeover.
NESV bought the club after repaying a £237million loan Hicks and his former partner George Gillett took out with the Royal Bank of Scotland and Wells Fargo and Co.
Mr Justice Floyd said in his ruling that the sale of Liverpool came about because of Hicks and Gillett's indebtedness.
Broughton arranged a board meeting last October to consider two offers or the club, both of which were opposed by the former owners.
The US pair attempted to remove the English directors of the club and replace them with their own men but Broughton continued with the board meeting and accepted the offer from Sports Ventures.
The judge said the former owners then sought a temporary restraining order in Texas "expressly aimed at stopping the sale".
Floyd then allowed an anti-suit injunction "on the basis of what appeared to me to be the unconscionable conduct of the former owners in seeking to undermine the English proceedings".
Of his decision not to discharge the anti-suit injunction, he said: "The reality of the situation is that the former owners have already started two sets of proceedings and openly asserted their intention to start more.
"They will undoubtedly start more proceedings if allowed to do so. There is a real threat that those proceedings will be in the United States."
Of the application to vary the anti-suit order, he said the former owners should be free to be able to make applications in the US courts that would aid proceedings in the UK.