Tottenham boss wanted to bring Italian star to White Hart Lane.
Tottenham V AC Milan tickets available at Tixdaq.com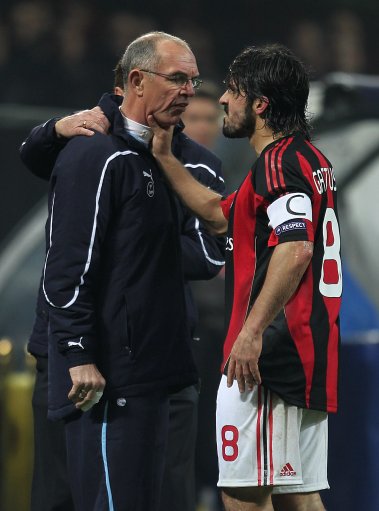 Tottenham manager Harry Redknapp has admitted he tried to sign Gennaro Gattuso from AC Milan last summer.
The 33-year-old Italian, nicknamed Rhino, was involved in a head-butting incident with Redknapp's assistant Joe Jordan at the final whistle of the Champions League tie.
But Redknapp revealed the Italy international was offered to him last summer by an agent but the deal never materialised.
"I will admit that Gattuso was a player I considered signing last summer," Redknapp wrote in The Sun. "Gattuso was offered to Tottenham by an agent. I had even managed him before in a big charity game when I was in charge of a European All Star XI against the Rest of the World one summer.
"Gattuso was fantastic in the dressing room and, because of being his manager on that occasion, I gave it serious thought. But it never quite worked out.
"At the end of the game I honestly thought Gattuso was coming over to apologise. I thought he wanted to shake Joe's hand. Gattuso said to me, 'Well played, well done, good luck'. But then he nutted Joe right out of the blue!
"I've met Gattuso before and I thought at the time what an absolutely fantastic bloke. A terrific footballer, who appeared very easy to get along with. He seemed a fantastic character. But on Tuesday night, in front of 80,000 fans at one of the most talked about stadiums in football, he lost it for no apparent reason."
Gattuso's agent, Claudio Pasqualin, claimed that his client was riled by Jordan, telling Napoli's Radio Kiss Kiss: "Jordan, after having continuously heckled him, insulted him with truly low phrase, saying 'F*****g Italian bastard'."
Redknapp refutes this claim and instead praises Jordan for fighting against his natural instincts when confronted by Gattuso.
"Only a real man can keep his fists by his side when he is attacked. Only a real man refuses to get dragged down, despite being grabbed, pushed and head-butted," Redknapp wrote. "That real man is my mate. That real man is my first-team coach at White Hart Lane. That real man is Joe Jordan.
"In the face of unbelievable provocation at the San Siro, Joe kept his hands to himself while Gennaro Gattuso had him by the throat. He did not lose his rag when Gattuso shoved him, he did not go in with fists swinging when Gattuso shocked us all with his head-butt. Joe took the lot. And now some people are trying to paint him as the villain of the peace, when nothing could be further from the truth."