Newcastle United defender Jose Enrique could follow new Liverpool striker Andy Carroll's route to Anfield.
Liverpool tickets available from Tixdaq.com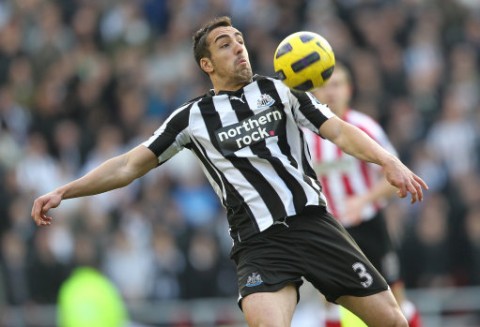 Jose Enrique has confessed he would be open to a move to Liverpool or Manchester United after revealing he has been the victim of broken promises at Newcastle.
"It is flattering that Liverpool are interested," said Enrique in the Sun.

"I've also heard that Manchester United and Aston Villa have asked about me. They are big teams and I'm not closing the door on anyone. I'm ambitious and want to play in the Champions League. I want to win things. I'm OK at Newcastle but I aspire to more.
"I love the fans here and suffered with them when we were relegated. But we have to be realistic. Newcastle aren't performing well.
"The club has promised that all the [Andy] Carroll money will go towards new players. I hope that is so. But I have been promised things before that have not materialised.
"Andy Carroll was a great striker for Newcastle. He was a key player. But he is not the only player who has left and now we are short-staffed. There are a lot of colleagues who only made their Premier League debuts this year and we have no replacement players for some positions. If we suffer injuries to major players we'll have problems."
SOURCE: ESPN
Jose Enrique stated earlier this week that he would reopen contract talks with Newcastle United once they had guaranteed Premier League safety, so let's look at that first.
Newcastle United currently have 35 points.
West Ham United survived with that total last season, and indeed were five points clear of the bottom three.
Though the table is more congested than ever this season, the Magpies are eight points clear of the relegation zone and seem in no danger of going down.
Forty points will most probably be enough to avoid relegation as usual, meaning that Newcastle only have to win one and draw two of their remaining eleven games to reach that – or win two to exceed that target.
They could lose nine games and still be comfortably safe, but that is extremely unlikely to happen.
It seems unlikely that Jose Enrique is stalling because he is worrying about relegation.
He is more likely to want to fulfil his ambitions at a bigger club, and is planting the seeds for a move early.
One of Newcastle United's standout players in the Premier League this season, he probably merits it.