Stamford Bridge fall from grace analysed.
Chelsea V FC Copenhagen tickets at Tixdaq.com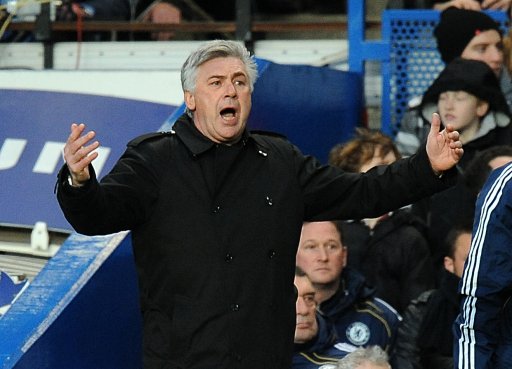 What is going on at Chelsea? After a great start to the season the reigning champions have fallen away in an unprecedented fashion. After holding a 5 point lead at one point in the season, a ridiculously poor run of form has seen them now fall 12 points behind Manchester United, the league leaders, and sitting in 5th place outside the Champions League places. This has left Chelsea fans asking numerous questions. What/When/Where/Why did it all go wrong?
After the loss away to Liverpool, Chelsea started on a dreadful run of form. They just about managed a 1-0 win against Fulham at home a few days after the game at Anfield. Then came a loss at home to Sunderland, arguably the worst Chelsea performance in years. Then another loss away to Birmingham, followed by draws with Newcastle, Everton and Tottenham compounded with a loss away to Arsenal. The loss to Liverpool may well have been one trigger as they never looked like winning. It was a totally different performance to what we had seen from Chelsea before hand.
Between the Fulham and Sunderland games, the club announced the sacking of Ray Wilkins from his post as Assistant Manager. They did not give a reason for the dismissal and Carlo Ancelotti made it clear it was a decision of 'the club' and not of him. He is a manager used to taking a back seat as he was used to this with Silvio Berlusconi at AC Milan. Rumours flew as to why Wilkins was sacked. One of the more credible ones was that in a pre-season meeting, Mr. Abramovich said the team needed to improve and win the Champions League, Wilkins disagreed and stated that the team had had a fantastic season in winning the League and Cup double. Abramovich did not appreciate this and from then on Wilkins was a marked man.
The nature of the dismissal while the club was still 4 points ahead was odd. It left an air of uncertainty around the club and obviously had a big impact on the players at the club. Wilkins was highly respected and clearly the players were disappointed with his departure. He was then replaced by former Chief Scout at the club Michael Emenalo, a favourite of Abramovich, when it was largely expected that a big name close to Ancelotti would be brought in. Ancelotti was quoted as saying that Emenalo didn't seem to be doing much different in terms of his job after his promotion.This loss of confidence in the club and air of anomosity at the owners has clearly become more deeply engrained as the season has gone on and meant that performances have been continually poor.
Another factor could be put down to the ageing nature of the squad. With the spine of the outfield team – John Terry, Frank Lampard and Didier Drogba – all the wrong side of 30, questions are beginning to be asked. Lampard has been absent with frequent injuries, Terry seems to have lost his legs and is not playing as well as in previous years while Drogba has been inconsistent and is now being linked with a link away from the club. The average age is often around 28 which is often the age when players tend to be in their peak. The squad may be getting older but less than 12 months ago they won the double so can the shocking form really be put down to that? Some of the players just aren't playing well now despite a good start, such as Malouda. It is definitely something the club needs to press on with and bring in new young talent. Ancelotti has tried to introduce Gael Kakuta, Daniel Sturridge and Josh McEachran to the first team to try and bring down the average age. Kakuta and Sturridge have been loaned out in order to get more first team experience and Sturridge is performing well for Bolton.
The lack of depth has been very apparent this year. The youngsters mentioned above have often been used as regular subs and are not of sufficient calibre to change matches. This was apparent under Big Phil Scolari. A lack of options on the bench made him relatively unable to change the course of games, similarly with Ancelotti, and ultimately led to Scolari's dismissal. The squad has looked very weak at times and the lack of depth has made it hard for Ancelotti to change a game that is not going the way they wish. While some youngsters may have the talent to change a game, the ones used by Chelsea, while being promising, have failed to make an impact when called upon. It is unfair to expect that of them really.
Many of the Chelsea players haven't had a rest for a long time due to the World Cup in the summer, but this is the same for all the big sides and they are not suffering the same poor seasons. Perhaps it is catching up on the key players at Chelsea due to their age.
Wilkins dismissal has had a negative impact on the teams results but surely cannot be the sole reason for the poor performances. However, this combined with some of the ageing squad and lack of depth can be attributed to the loss of form. The signing of Torres and Luiz are a good base to start rebuilding the squad from and more purchases are needed in the summer. Chelsea must improve this season though and finish in the top 4. If they fail in this then it is likely Ancelotti will lose his job. Something is still not right at Chelsea and while it continues like this, it is hard to see an improvement in results. I would like to here any other theories you have as to why Chelsea are struggling and what the future has in store for them.