UEFA should throw the book at Italian international for outrageous head-butting incident.
Premier League Tickets Available from Tixdaq.com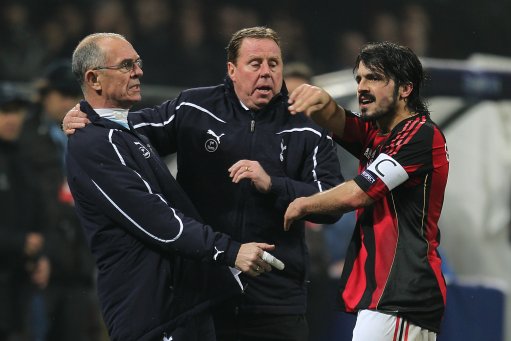 The Champions League tie between AC Milan and Tottenham Hotspur on Tuesday 16th February was a night to remember, but was it for all the wrong reasons? The night should have been focussed on celebrating an unlikely and heroic victory for a mightily impressive Spurs side. It should have been about a hard fought away win at one of Europe's toughest grounds. And it should have been about Peter Crouch exacting revenge and exorcising the demons of Liverpool F.C.'s class of '07 (of which he was a member) and their defeat to A.C. In the Champions League final.
In many ways it was about all those things, and yes, Crouchy did have the last laugh, stroking home Aaron Lennon's ball with less than 10 minutes remaining to seal a 1-0 victory at the home of a side who sit top of Serie A, and to set up a mouth-watering second leg at White Hart Lane.
However, the magnitude of Spurs' achievement (and it shouldn't be understated) was marred on the night by two appalling displays of "unsporting conduct", as UEFA call it; or just plain thuggery to the rest of us. Both exhibits came courtesy of Milan, who seemed to be adopting the same rough-house tactics employed by the Dutch in the recent World Cup Final. And, perhaps with depressing predictability, the usual suspects were involved.
First up we saw a two-footed horror tackle from ex-Arsenal midfielder Mathieu Flamini; his victim? Vedran Corluka, who had to be stretchered off. How Flamini escaped with only yellow card will surely go down as one of the games great mysteries. It was a challenge more befitting the rings of the WWE than a football pitch. Clearly Flamini had built a lot of resentment up towards Spurs during his tenure as a Gunner and no doubt this was him releasing some of that aggression. Or perhaps it could be that Milan simply could not find a way to beat Spurs by the orthodox method of playing football.
Next up we had re-offender and public enemy number one Gennaro Gattuso – AC Milan's captain no less, whose fracas with Joe Jordan on the touchline during, and after, the game was nothing short of an embarrassment. Words were exchanged between the two during the match, and then at the final whistle Gattuso marched over to Jordan, grabbed him by the throat, head-butted him and pushed him in the chest. Again, you got the sense that perhaps Gattuso thought he was auditioning for Royal Rumble.
Eventually the Italian was pulled away by team-mates and ushered down the tunnel, leaving a sour end to what should have been a wonderful night for Spurs. Gattuso's actions allegedly came following an exchange of words between the ex-Rangers midfielder and Scot Jordan, which superseded a challenge on Gattuso by Steven Pienaar. The fracas continued after the final whistle before things dissipated. This is hardly the first shocking incident that Gattuso has been involved in. The controversy-courting midfielder has enjoyed his share of scraps for club and country, in the past and surely now it's time for UEFA to throw the book at him.
Gattuso has since apologized for the incident, though the timing of this is likely to be more in the hopes of currying favour with UEFA (thus reducing his ban) than actually feeling remorseful. However, Gattuso claims to be sorry for what happened stating 'I lost control'. Surely a club captain cannot afford to lose control? It is his job to remain calm and collected at all times, even in the face of adversity, and thus inspire his team-mates to do like-wise. If a captain is to lead by example it is a sobering thought to imagine what the Milan players will take away from their captain on this occasion.
UEFA's governing body will hold a disciplinary hearing to determine the fate of Gattuso, who has already been charged with "gross unsporting conduct", and whilst it is certain he will receive a ban of at least one game, the fact that the incident falls into the category of "assaulting players or others present at a match" means that the ban is likely to be extended to at least three games. Gattuso is already set to miss the return leg of this tie courtesy of a booking, so Tottenham should be safe from his mindless thuggery for the return fixture. However, a lengthy ban would protect other players who are likely to fall foul of this disgusting behaviour from a man who seems to revel in it. Perhaps it's time that UEFA made an example of someone in order to cut this kind of behaviour out of the game entirely; Gattuso seems the perfect place to start.