An impassioned plea to St James' Park owner and his botched plans to copy the 'Arsenal model'.
Newcastle United Tickets Available from Tixdaq.com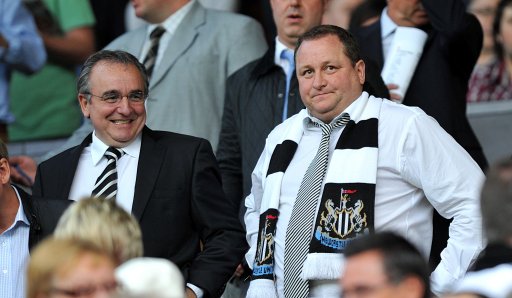 I know I'm not the only one who thinks Ashley doesn't know what he's doing from one day to the next. But according to him, he's got a five year plan. He can't take credit for it though – he's just copying the 'Arsenal model'. So how's he doing?
Let's start with the money. The Gunners completed their new stadium the season before Ashley arrived and have set records for revenue received on match day due to ticket sales, especially corporate ones. Our leader inherited a first class stadium and after investigating ways of maximising revenue streams, came up with a nasty placca sign on the roof and one of the stupidest name changes ever. We also shouldn't forget the sterling work Dekka is doing shifting the pies and pints at half-time.
The Board of Directors at Arsenal has seven members, among them a Sir and a Lord. The Board of Directors at Newcastle has Ashley and a streaker. Just who is this prick Derek Llambias anyway? His recent comments about Alan Shearer beggar belief. What's the name of that bar at the stadium again?
Since May 2007, Arsenal has had the same manager leading their team despite mild supporter unrest at a perceived lack of success. Over the same period Newcastle is on to its sixth, despite supporters being more than happy with at least three of them. Wenger has actually been at Arsenal since 1996, and they are still in the hunt for four trophies this season. We're still involved in the race to finish mid-table, and now have Pardew at the helm. He was once identified as one of the most promising managers in the country by Sir Alex Ferguson, but his notable recent achievements include a relegation and winning the Football League Trophy.
Transfers. Arsenal often concludes business early in the window to allow the new player time to find his feet and integrate into the team. This is called planning. An example of this was the signing of Chamakh last summer, who Wenger had identified as the physical presence his team needed and then tied up on a free.
Newcastle's recent dealings in the market have been characterised by waiting until the last day of the window before selling one of the top players. Details are then released to friendly journalists about last minute deals that were attempted. These deals were never, ever going to happen. Kieran Richardson and Charles N'Zogbia? From Sunderland and Whelan at Wigan? Righto.
The driving force behind the 'Arsenal model' is identifying potential, developing it and then keeping hold of the player until he peaks. See Cesc Fabregas, Gael Clichy and Robin Van Persie. Newcastle, under Ashley, develops talent and then sells it on to rival clubs. See Andy Carroll, James Milner and Charles N'Zogbia.
Just while we're talking about Carroll, Arsenal had a similar situation last summer with Fabregas. The club kept hold of him, presumably by engaging with him and selling him their vision for the future. In doing so, they persuaded him not to re-join his hometown club. Through Pardew, Ashley spent the whole of January denying our best prospect since Gazza was for sale, before a flurry of activity on the final day of the window, apparently involving lots of sticking heads round doors, led to a new record fee for a British player.
For what it's worth, my opinion is that Carroll will turn out to be worth every penny Liverpool paid for him. He'd scored all types of goals for us this season – headers, left foot, right foot, tap ins, net busters – and provided them too, especially for Nolan. He'd added mobility to his game, was great defending in our own box and was someone we could all identify with. He's gone so move on? Fair enough, but make no mistake, he is a huge loss to this team.
Mad Mike's plan is really nothing like the 'Arsenal model'. And nobody should be under the illusion that it's about anything other than cold, hard cash. He's not here to have a bit of fun.
Personally, I've tried to give him a chance. I was angry about the way Keegan was shafted, but I fell for his bullshit in the programme the day we were spanked by Liverpool a few Christmases ago. By the following summer I was mad again after relegation and the way Shearer was shafted, but again, that had passed by the beginning of this season and I was quietly confident we'd do better than spend the year fighting relegation.
Carroll's sale was a new low though, and it was a strange sense of comfort I got seeing that other Mags had trouble sleeping that night with the feeling they had been cheated on.
Why should we be lied to by the owner, managing director and manager of our club? Football is not big business – it shouldn't really be treated as a business at all. Football clubs ought to be organisations that strive to bring the local community together. Instead, we're stuck with a greedy twat of an owner, an MD who is on record as having no respect for icons of the club, and a manager who owes a huge gambling debt to his boss. Allegedly.
So f*** off Ashley. Get out of our club. Sell Jose Enrique, Cheik Tiote, Joey Barton. Stick the logo of your sportswear company all over the shirt if you want. Whatever it takes to reach that magic figure which means you'll have made your loot. No doubt we'll suffer before you leave, but I'll take the short-term hit to guarantee you wobble off back to the casino, or squash club or wherever you f**king came from. You can take your gimp with you too. And buy yourself a new shirt while you're at it. Billionaire with only one outfit in his wardrobe? Loser.