Will Arsenal captain Cesc Fabregas move away from Emirates Stadium for £38m?
Arsenal tickets available from Tixdaq.com
Watch Arsenal v Stoke live streaming with GetSport.TV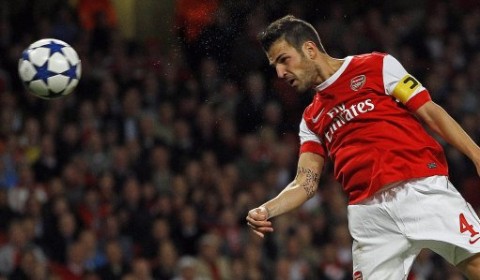 Barcelona are refusing to give up hope on Cesc Fabregas – and believe they can land him with a £38million bid.
The Gunners had claimed nothing but a world record-breaking fee would prize their club captain away from the Emirates, after Barca failed to land him with a £30million bid last summer.
But a Nou Camp insider has revealed that Arsenal have softened their stance – and the Catalans are preparing to make a bid at the end of the season.
Fabregas has never hidden the fact he wants to return to the club where he started and the Barcelona insider said: "We still want him and we think he still wants to come back to us.
"If we bid €45 million (£38million) then we will be able to sign him.
"Arsenal say they want to keep him but if we offer the right amount of money then things will change. I believe it will take €45 million."
Fabregas started life at Barcelona but was snapped up by the Gunners at the age of 16.
Barca still regard him as the one that got away from their famed academy, which also produced the likes of Lionel Messi, Xavi and coach Pep Guardiola.
The insider added: "He is the best player we let leave the club and he would complete the Barcelona team if he came back. He is a phenomenal player."?
SOURCE: Daily Mirror
This is almost certainly an attempt by Barcelona to destabilise Arsenal before they play again in the UEFA Champions League, but Barca really don't get it, do they?
Arsenal rejected an offer of £33m from the Catalan club last summer, stating their captain is not for sale at any price.
Even if he was, £38m is clearly far below his value in the modern football market.
After all, that's only just more than the cost of Andy Carroll.
Barcelona's reluctance to pay big money is believed to stem from the fact that they used to own Fabregas.
He was lost for an absolute pittance, and signing him for millions and millions a few years later would undoubtedly be bad business.
However, the self righteous Barcelona believe that Cesc Fabregas still belongs to them – and will seemingly stop at nothing to get their man.
As ever in these situations, the decision ultimately lies with the player.
Join the Best Football Manager game now, Its Free!