Frenchman signs new deal to stay at Old Trafford, while St. James' Park full-back heads to Anfield.
Liverpool Tickets Available from Tixdaq.com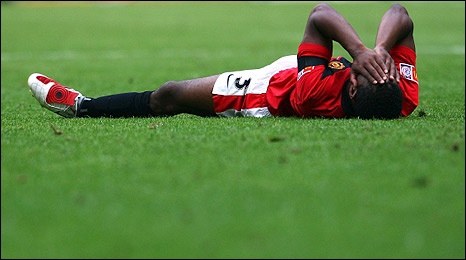 Manchester United have signed France international Patrice Evra on a new three year deal.
The deal has squashed any rumours linking him with a move to Real Madrid after agreeing terms on a new deal until 2014.
The agreement has paved the way for Liverpool to make a move on Newcastle United defender Jose Enrique.
Both Manchester United and Liverpool wanted to sign the Spaniard, who has 18 months left on his contract, in the summer.
But Evra's new deal puts Manchester United out of the running and allows their rivals a clear path.
Evra has made 226 appearances for Manchester United since arriving from Monaco in 2006. He has won the Premier League three times, the League Cup three times and the Champions League.
The 29-year-old is delighted to have signed his new deal.
"Ever since I arrived at United, it's been a dream come true playing here," Evra told the club's website.
"The fans, the players, the manager and the staff all work hard to make this club the best in the world.
"I've won a lot in the last five years, but I want to win more and I know that's the mentality of everyone here."
Sir Alex Ferguson is also happy to keep the player.
"Patrice has developed into a key character in the dressing room," Ferguson said.
"It's great that he's committed himself to Manchester United. His experience and talent will be increasingly important to us."