Manchester City will upset Manchester United and bring Jack Rodwell to Eastlands.
Premier League Tickets Available from Tixdaq.com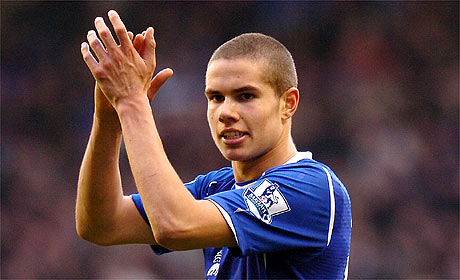 Manchester City manager Roberto Mancini has identified Everton midfielder Jack Rodwell as the new Patrick Vieira.
But the Italian may face competition from Manchester United for the teenager's signature.
Sir Alex Ferguson has long been an admirer of Rodwell and has discussed signing him with Everton counterpart David Moyes.
Ferguson was expected to bid £20m in the summer but now Mancini will enter the race.
Mancini is looking for a box-to-box midfielder, to replace Patrick Vieira and Gareth Barry, and believes Rodwell is the perfect candidate.
The Italian manager realises he needs to find a replacement for Vieira, who scored two goals in the FA Cup win over Notts County.
"He (Vieira) knows the position and it is important that when he plays he plays well," said Mancini.
"It is because of that kind of professionalism that I say we want to find another Patrick. He has won everything and is a good player, but it's not easy for a player like him to play a lot because of his body.
"He is 34 now and the time goes for everyone. Time passes for all players.
"If we find a player like Patrick for our future it would be fantastic as he was one of the best midfielders in the world for a long time."