Nou Camp move on the cards for Emirates midfielder.
Barcelona V Arsenal Tickets available at Tixdaq.com
Watch Arsenal v Stoke live streaming with GetSport.TV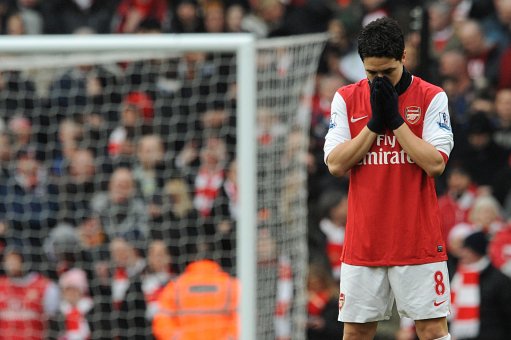 Samir Nasri has revealed he could quit Arsenal this summer if they win the title – for Barcelona.
The French midfielder, 23, said: "I'm always flattered when my name is mentioned in connection with any big club, but I also know how things work.
"As things are right now, I am happy here and I have ­confidence from the manager. But things can change quickly in football, and then we may have a new situation." Nasri has 16 months left on his current contract.
The Emirates idol is on ­Barcelona's most-wanted list – along with team-mate Cesc Fabregas.
Barca's ­admiration grew when Nasri set up the winner in last week's Champions League clash.
Nasri has a gentlemen's agreement to wait until the summer before he discusses his future with manager Arsene Wenger.
He told Sport magazine: "We promised each other to speak about this subject after the season ends.
"One of the reasons I came to Arsenal was to win titles, and I'm not expecting to leave without one."
Source: Daily Mirror
Could this really happen? Arsenal supporters are very used to Barcelona's attempts at trying to bring Cesc Fabregas back to the Catalan giants but now Pep Guardiola wants Samir Nasri who is actually a player the La Liga giants could probably have more use for in their current set up.
There were reports previously that Barcelona were considering making a £35m offer for the 23 year old French international, which seems far less than his actual value, but more than they offered for Fabregas so that may say it all.
Wenger has a number of players linked with moves away from the North London club with Andrei Arshavin also reportedly wanted by his former Zenit St Petersburg side and the likes of Nicklas Bendtner and Carlos Vela supposedly ready to be offloaded. The culmination of this season could be a turning point for Arsenal, if they succeed and win either the Premier League or Champions League then it could oddly enough lead to their best players having the excuse to leave the club.
After all both Nasri and Fabregas have made statements saying they would not leave the club until they had won a major title, so what if they do that this season?