Embarrassingly Fabio Capello was sure he knew who he was talking to, but just couldn't put a name to the face.
Premier League Tickets Available from Tixdaq.com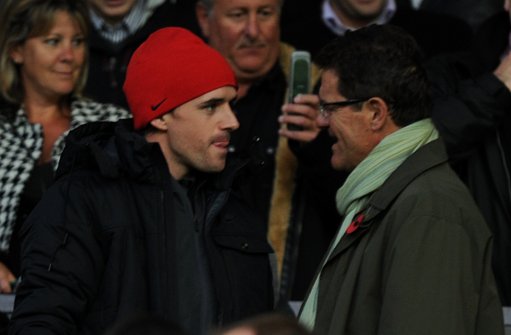 Labels are banded around a lot in football, every talented new kid on the block is the 'new Zidane,' the current dominant team is always the 'best team in the world' and as we have seen recently 'the best goal ever scored at Old Trafford' is also relatively easy to achieve.
The downside to this culture of labelling players and teams is that it often piles unnecessary pressure onto those involved – and when they do inevitably fail to live up to hype that surrounds them, the negative response to this is often substantial. One prime example of this is English footballs so called 'golden generation' of players in the last 5 years, with the peak of this disappointment coming in their failure to qualify for Euro 2008.
One factor that can be highlighted when it comes to analysing the failures behind England's golden generation is a slew of long term injuries that effected both key and squad players. We have highlighted 3 players below, all plagued by injuries throughout their careers, who's inability to stay fit has had the most influential effect on the so called generation of gold.
Michael Owen
It is sometimes easy to forget that Michael Owen is still but a youngster at 31. If you were to suggest for a second that Didier Drogba was too old for international football at 32, you would be rightly mocked – suggest this about Michael Owen and it would not be hard to find others who agree, which is a testament to the effects an injury prone career can have on a player. Owen struggled to fully recover from his knee ligament damage sustained in the 2006 World Cup and even the normal amounts of surgery, recovery, glucosamine, surgery, recovery and quite possibly voodoo magic have since been unable to restore him to the level of fitness that allowed him to score in almost one in every two games of his 89 appearances for England.
Although it is hard to remember a fully fit Owen, it cannot be overstated that on his day there are few players with such a finely honed eye for goal. Unfortunately thanks to such long spells of injury throughout what should have been his golden years, we will never truly know the effect he would have had on England's international success.
Owen Hargreaves
The classic ever-injured player is without a doubt everyone's favourite Canadian-English midfielder, Owen Hargreaves. From his early career at Bayern Munich where torn thigh muscles and broken legs saw him miss considerable chunks of playing time, to his first start for Manchester United in almost 2 years in 2010 – where he was substituted after just 5 minutes with a hamstring injury, it seems like Owen Hargreaves career has been scripted like a Greek tragedy. Injuries aside, Hargreaves when fit was a vital player for England, providing a calming yet tenacious influence in the midfield, allowing more attacking minded players a licence to roam. This was highlighted after the 2006 World Cup, where Hargreaves was awarded both the England Player of the Year and England Player of the World Cup, the first player to ever be awarded these two honours in the same year. As with Owen, it is again a huge shame that we will probably never again see Owen Hargreaves at his best.
Hargreaves even gets injured in computer games! Here he is celebrating his goal in Fifa 10 and this happens…
Jonathan Woodgate
Even in such glittering company, the award for the 'most painful waste of talent to incessant injuries' should in my opinion go to Jonathan Woodgate. Not since his time at Leeds United in the late 90's and early 00's has Woodgate had a uninjured period long enough to show the quality that I believe could have seen him as England's number one choice at centre back.
From his short and injury plagued stint at Newcastle to his 3 years at Real Madrid spent almost exclusively on the injury list, which eventually led to his exclusion from the 2006 English World Cup squad, Woodgate suffers from an ability to pick up injuries just as he seems to be 'getting going.' Mirroring Owen Hargreaves, his last appearance for his latest club Spurs, has seen him diagnosed with a muscle strain after playing just 30 minutes as sub against AC Milan.