Sir Bobby Robson's former assistant and Roy Hodgson's best mate axed as national team boss.
Premier League Tickets Available from Tixdaq.com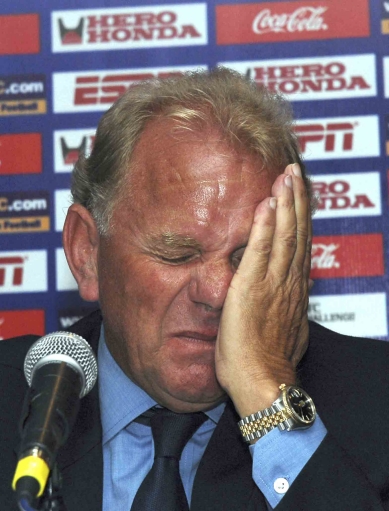 The English manager of the Indian national team Bob Houghton, has been fired. After a tempestuous 5 year relationship with the All India Football Federation (AIFF), Houghton has finally paid the price for his constant outbursts about the lack of investment in infrastructure from the AIFF.
Accused of racist comments to a referee and frequently falling out with players and officials, Houghton has never been far from controversy in his time in charge. In a statement to the Mail Today newspaper, Pradip Chowdhury, the former team manager and member of the AIFF technical committee said that the decision was inevitable.
"During our meeting last month we took a close look at his achievements and though it would be wrong to say he didn't do anything for the game in the country, we weren't satisfied with his overall performance." 
With echoes of the John Cleese "what have the Romans ever done for us" speech in Life of Brian he went on to say:
 " While he did win us two Nehru cups and helped us to qualify for the Asian Cup – after a gap of 27 years – after winning the 2008 AFC Challenge Cup, we feel the teams performance at the Asian cup left a lot to be desired."
Despite the fact that the Indian team has had some success under Houghton, they are still minnows in the world game. Ranked by FIFA at 136 when Houghton took over, he has never managed to advance that and leaves them with a lower ranking of144.
Though the Asian Cup campaign was deemed to be a failure by the AIFF, credit has to go to Houghton for qualifying them for the first time in 27 years.
The Indian national set up is unrecognisable from the one he inherited. They are well financed and prepared, spending time in training camps last year in Portugal and Dubai but Houghton's constant public tirades against the AIFF about lack of infrastructure outside the national squad has ultimately cost him.
An official from the technical committee added. "As a coach you might have grievances against the federation, but you are most welcome to talk about it within the federation. As a contracted member you just cannot use a public forum to vent your anger. His racial comments against referee Dinesh Nair, his public comments against the federation during the Asian Cup and his much publicised fallout with the then national manager Pradip Cowdhury just prior to the teams departure to Doha also went against him."
The racist comments to referee Nair were allegedly made in a friendly game with Yemen at a match last year in Pune. Though denied by Houghton and fiercely defended by players particularly his captain Baichung Bhutia it was further ammunition for the AIFF.
The players as a whole would seem to have been behind him, though there has been no shortage of former players ready to criticise with accusations of cronyism – particular with Bhutia – and running a 'closed shop'. His decision to take his closest ally Bhutia, to the Asian Games despite being nowhere near fit was roundly criticised and their failure – though expected- bought the whole situation to a head.
After resigning only to sign a new contract 2 weeks later in 2010 taking him through to 2013, Houghton would have seemed to be in a bullet proof position, but with the AIFF seeking legal advice with a view to not paying up his contract this now looks like the end game in his colorful and controversial reign.
The question now is what next for the game in the worlds second most populated country? With football on the rise thanks in main to the English Premier Leagues popularity, the AIFF have an important decision to make. The next appointment needs to be progressive with someone willing to build on the decent structure put in place by Houghton.
The AIFF also has to accept that some of Houghtons criticism were correct and massive investment is now needed at grass roots for the country to progress and talent to come through.
Whoever gets it will have a difficult but ultimately exciting job on their hands, where Houghton goes next is unknown. Just don't expect him to leave quietly!