Watch around 17 seconds into this video, watch as Laurent Koscielny is clearly smashed in the head, seemingly deliberately, by a Birmingham City player.
Premier League Tickets Available from Tixdaq.com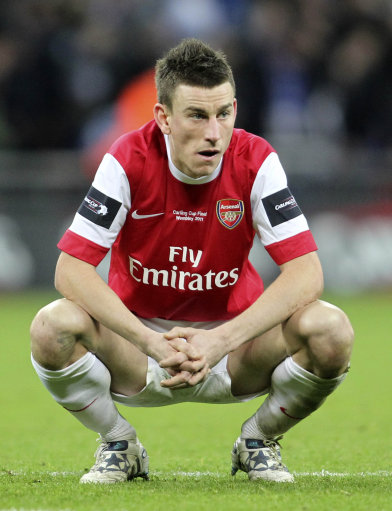 Here are some post match thoughts from Arsenal boss Arsene Wenger and players Robin Van Persie and Cesc Fabregas.
Arsenal boss Arsene Wenger refused to blame his players after their 2-1 Carling Cup defeat by Birmingham.
A mix-up between goalkeeper Wojciech Szczesny and defender Laurent Koscielny led to a late winner which Obafemi Martins stroked home into an empty net.
"A little misunderstanding had a great consequence on the game and both players are destroyed. I blame no-one," Wenger told BBC Sport.
"When these things happen late in the game there is no time to rectify it."
Arsenal have still not won a trophy since the 2005 FA Cup and Wenger added: "We have to wait a little bit longer [for a trophy]. It is very hard to take.
"The players are disappointed but we have to pick ourselves up, that's what a team is about. It's a good opportunity to show our mental strength which I think is great.
"We got what we expected from Birmingham – they are a team who fight very hard and cause a lot of problems from long balls.
"Both teams gave everything. Congratulations to them – they got the trophy – but we have regrets with the way we conceded the (Martins) goal.
"What can you say? You have to be positive because he (Szczesny) is a young boy. He has to pick himself up from that goal and hopefully he can do that."
Wenger revealed striker Robin van Persie, who equalised for the Gunners in the first half after Nikola Zigic put the Blues ahead, suffered a knee injury after the break.
"We are in good positions everywhere but we play so many games and we can't go on losing players" said the Frenchman.
"We lost Cesc Fabregas in the week and now Van Persie is not in good shape after this game. It's a knee problem – we will have to assess it on Monday."
Fabregas, who sat the game out with an injured hamstring, paid tribute to Birmingham on his Twitter feed, but urged Arsenal's fans to stick with the team as they are still in the hunt in the Premier League, Champions League and FA Cup.
"Congratulations to Birmingham," said the Spaniard. "This team has great potential and there are still great targets to play for this season. Thanks for your support."
Van Persie added on his: "I'm very sorry that we didn't bring Carling Cup back to north London! Thanks for your support today! Sorry again!" (BBC Sport)