Stamford Bridge full back didn't know gun was loaded.
Premier League Tickets Available from Tixdaq.com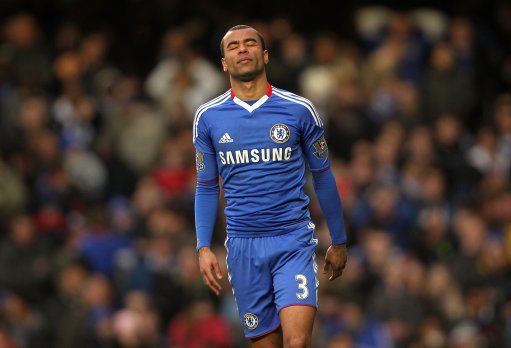 SOCCER ace Ashley Cole left a fan "bleeding profusely" after shooting him at Chelsea's training ground, it has been reported.
The controversial England defender allegedly took a .22 air rifle – the most powerful gun available without a licence in the UK – with him to training last Sunday.
The News of the World reports that Cole was messing around with the weapon in the dressing room when he inadvertently shot Tom Cowan, a sports science student on work placement with Chelsea.
Cole apparently did not know the gun was loaded and was just five feet away from the 21-year-old when it went off.
One eyewitness said it left the victim "in agony" and "bleeding profusely".
The club's medical staff treated him and he was given two days off.
It is understood that Cole has been reprimanded by his bosses at Chelsea and has also apologised to Tom, a Loughborough student on a year's internship.
Despite the alleged incident Cole played the entire 90 minutes for Chelsea's 2-0 win against FC Copenhagen in the Champions League on Tuesday. (The Sun)
A few obvious questions arise from this incident. Whilst clearly it seems highly unlikely Ashley Cole would deliberately look to shoot someone, why did he even have the air rifle with him? For self defence? Also it would seem an apology may not be the last we hear on the matter as presumably the disgruntled work experience student will look to get some compensation which would appear to be the least he deserves for being shot at from five feet!
However it is probably a good idea to not over play this accident. Tom Cowan, the 21 year old who was injured, was not taken to hospital and has apparently totally recovered. That won't stop up from surmising that perhaps the incident was not in fact very similar to this terrific scene below from Goodfellas, in French!

Les Affranchis Spider scene
Uploaded by sergiooo27. – News videos hot off the press.