End of an era at Stamford Bridge?
Watch Chelsea v Man Utd live streaming with GetSport.TV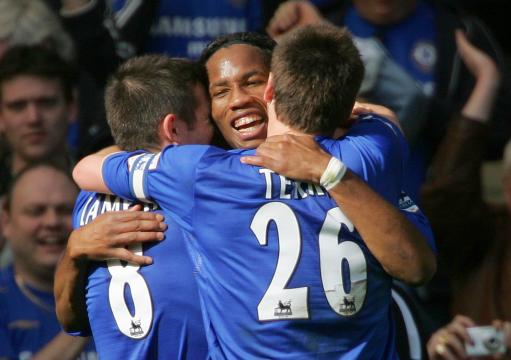 Chelsea could be planning to get rid of John Terry, Frank Lampard and Didier Drogba as Roman Abramovich continues his over-haul of the club.
Chelsea have been criticised for their ageing squad during a comparatively poor season and the Sunday Mirror Sport reports that the Russian billionaire is set to offload three of his biggest stars in a bid to get things back on track.
The signings of Fernando Torres (from Liverpool) and David Luiz (from Benfica) in the January transfer window are direct replacements for Drogba and Terry while Kaka and Wesley Sneijder are being lined up as a successor for Lampard.
Drogba, meanwhile, seems to be decidedly unhappy about the situation with The Mail on Sunday reporting that the Ivory Coast striker will quit Stamford Bridge if he is dropped for Tuesday night's Premier League showdown with Manchester United.
The 32-year-old is eyeing a move back to Marseille in the summer, although the rumoured £20 million transfer fee that Chelsea would demand, as well as the French club's inability to match Drogba's wages of £130,000 a week, could be a stumbling block.
SOURCE: Eurosport
It does seem that Chelsea are looking to freshen things up at Stamford Bridge as their season threatens to peter out with a whimper. The trio of John Terry, Frank Lampard and Didier Drogba have for so long been crucial to success at the West London club but perhaps Carlo Ancelotti feels that now is the time to start to phase them out of service.
It does however seem almost impossible to imagine Messrs Terry and Lampard at other clubs and Didier Drogba, last season's Premier League top scorer, is also clearly a player who has led the line with such efficiency over the years.
The three players have taken part in a combined 1278 appearances for Chelsea and netted a total of 345 goals. In many ways they have been the heart of the side during their period of success and it will be something of a wrench to the club if they do choose to start afresh and look to phase out or sell arguably the three most important players the club has had during this triumphant era.