"I'm going to cover my eyes, when I remove my hand I want to see a nice contract in front of me'!
Liverpool Tickets Available from Tixdaq.com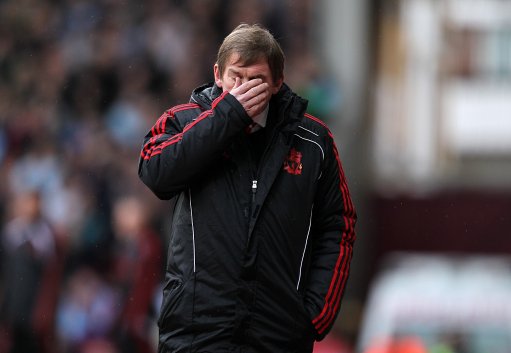 Fenway Sports Group that owns Liverpool, has been thrashing out contract details and is ready to offer the Scot a two-year deal.
FSG were leaning towards a rolling one-year contract with Dalglish hoping for a four-year deal. But it is thought all parties are now happy – especially with Dalglish given assurances that he will get cash to rebuild the team. The Boston-based Yank has already backed Dalglish with £62million to buy strikers Andy Carroll from Newcastle and Luis Suarez from Ajax.
Henry, delighted with the club's upturn since Dalglish took over, praised Liverpool's Europa League win over Sparta Prague on Twitter, saying: "We all have to be extremely happy. A total team effort. Great to see."
Now that appreciation will be turned into a permanent role for Dalglish, who said last night that fans would never have forgiven him if he'd turned the job down.
He said: "Someone asked me whether it would affect my relationship with the fans if it didn't go well. I felt the opposite. If I hadn't accepted the job, they would have had every right to disown me."
SOURCE: The People
Kenny Dalglish was the supporters's choice for some time, in fact the Liverpool legend was being called for pretty early on in the Roy Hodgson reign and there is no doubting the change in attitude at the Merseyside club over the past couple of months.
Having now been in charge for eight Premier League games Liverpool have registered four wins, two draws and away defeats at Blackpool and West Ham. The club still has ambitions of a European qualification place and the signings of Luis Suarez and Andy Carroll show that the club's owners have a lot of faith in the new boss.
A two year deal is apparently likely to be signed at some stage this week.