Ben Davies, of Off The Post, lifts the lid on the truth behind Sir Alex Ferguson's notorious hairdryer treatment.
Premier League Tickets Available from Tixdaq.com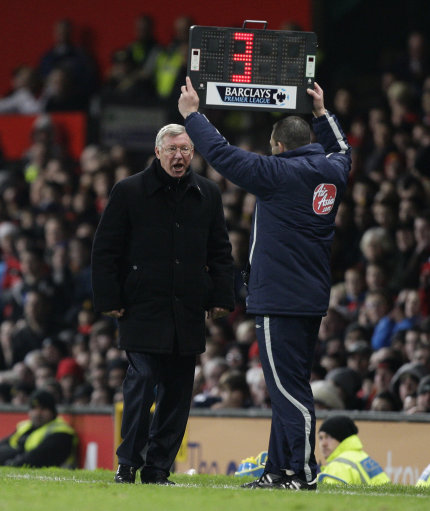 In a series of diaries that will rock the footballing world to its very foundations, a former backroom staff member of Sir Alex Ferguson has pulled the plug on the Scot's reign of changing room terror at Old Trafford.
The diary – exclusively serialised on Caught Offside – chillingly reveals that the hairdryer treatment is not just a metaphor for a volley of abuse. On the contrary – in Fergie's case – it is a tangible and violent piece of machinery that he adapts and wields with gay abandon and perverse delight.
The member of staff in question has asked to remain anonymous.
The Origins 1945 – 1985
Alex told me that the whole hairdryer fascination started from childhood. His family came from a long-line of award-winning Glaswegian hairdressers, so when he wasn't kicking a football about, he was using the family heirloom (a Babyliss 500) to maintain his grandad's perm. He told me he won the regional championships by inventing the 'blow-dry inverted mullet' but never got the credit he deserved.
He was renowned for his dexterity with his trusty hairdryer, often seen co-ordinating his technique in the salon. Despite Duran Duran being on his books for a while, football eventually took hold and he begrudgingly hung up his clippers in the mid-1980s.
The Re-Awakening 1991 – 1993
That all changed when Andrei Kanchelskis joined Manchester United in 1991. The Russian's dishevelled flowing barnet had great potential and Fergie couldn't help himself: the hairdryer – or 'Pandora' as he called it – was dusted off.
As punishment for a poor performance Fergie let loose on the midfielder. He was like Edward Scissorhands in a Homebase garden centre: totally in his element. Seeing their manager in such a hypnotic state shocked the players to the core. It didn't help that Fergie adapted his pockets into hairdryer holsters and insisted on doing the cut and blow-dry topless. Apparently it helps him 'feel in the moment, at one with the throbbing airwaves.'
After Kanchelskis-gate, United went on a remarkable ten-game winning streak. The devilish pattern had been set – play well and you get a pat on the back, play badly and you get an aggressive and a gratuitously exotic blow-dry from the gaffer. I thought that things would settle down but they only got worse – Pandora's box had been well and truly opened.
The Modifications 1993 – Present Day
This was where I came in. I'd spent my first years at Old Trafford as a kitman and over the years my liberal use of fabric softener and charismatic folding techniques had earned me a lot of respect with Fergie. In pre-season of 1993 he got to know my life story, and how I'd spent most of my life as an engineer working on all-sorts: planes, trains and automobiles. As soon as I said that the Scotsman's eyes lit up – he got out his hair-dryer, kissed the nozzle and passed it to me requesting that I ''pimp the shit out of it'' for him.
The next day a figure wearing a balaclava parked in my driveway. The registration plate said 'Guvnor'. He delivered a brown envelope stuffed with £50 notes. Big money. This was it – there was no-going back. Over the next-decade I worked around the clock to deliver everything Fergie asked. The modifications always revolved around 5 key areas:
1. Air
Fergie was keen to up the propulsion on the hairdryer. He initially requested I fit a supersonic engine from a concord on the top but I convinced him it was a logistical nightmare. Over the years I increased the power and it now replicates the ferocity of a Formula 1 wind-tunnel – that's up to 200mph of force.
Fergie loved using short-sharp bursts on Gary Neville in the later years to increase the right-back's alertness in the second half. Contrary to popular belief, Gary often had spells on the sidelines not because of niggling knee-injuries but a series of detached retinas.
Our propulsion system often come in handy. In 2004, after we ended Arsenal's 49 game unbeaten streak, a food-fight broke out between the players in the tunnel: 'Pizzagate.' Ashley Cole was throwing snack-based missiles at the gaffer but Fergie quickly unsheathed Pandora and began deflecting a series of fajitas, 12-inch meat feasts and an array of cocktail sausages. Credit where it is due, he was like Neo clay-pigeon shooting pastries in an anti-social chain of Greggs.
2. Night-vision
Probably Fergie's favourite. When the manager really wanted to put his team on edge he would walk in to the dressing room and turn off the lights, plunging the squad into darkness. At this point Fergie used my night-vision scope on the top of the dryer – it allowed him to pin-point a victim and unleash a ballistic blast without any warning. Sadistic bastard.
I noticed that to this day Massimo Taibi sights this self-indulgent nocturnal abuse as a factor in his horrific spell at Old Trafford. Writing in his critically-acclaimed 1999 autobiography 'Taibi: The Gloves Are Off,' he explained: "The gaffer would often activate a luminous light on the top of the dryer, stare me coldly in the eye and would re-create a scene from the Blair Witch Project, line-for-line.
"It just wasn't the arm around the shoulder motivation I needed. When the lights came back on I was rocking in the foetal position sucking my thumb, which naturally damaged the confidence the back four had in me. Ten minutes later I let one in between my legs from Le Tissier.''
3) Projectiles
Soon enough the knight of the empire grew tired of inflicting psychological injury. In 2001, he told me he wanted to ''get physical'' and doubled the blow-dryer budget to £10 million – an expense that forced him to sell Jaap Staam . He claimed this sacrifice was ''a necessary evil'' and that he needed to ''treat myself'' now and again.
We started off quite trivial, just propelling Maltesers with the chocolate removed to inflict more irritation. I upped the ante by installing a projectile net. The gaffer was a big Spiderman fan and liked to use the device to neutralise players trying to fight-back. I lost count of the times I had to cut Keano out of that net.
Things got a little out of hand when Fergie gave me the nod to start using 'living' missiles. Over that 2002/2003 season David May was duly plastered with locusts, Nicky Butt was pulverised with a torrent of daddy long legs and, most dramatically, in 2003 David Beckham was enveloped by a giant fruit-bat that we sourced at great expense from a Peruvian mountain side. He needed two stitches for a bite, a rabies inoculation and some emotional support from Ozzy Ozbourne who had lived through a similar trauma. Luckily Becks kept schtum out of respect for everything Fergie had done for him.
4. Rewards Scheme
I have to admit it wasn't all bad. After winning the treble in 1999 Fergie commissioned a 'rewards scheme' to be installed on the hairdryer. It wasn't easy as the machine itself had now ballooned from 1 kg to 10 stones. Big Peter Schmeichel was often called upon to hold the dryer stable or a tri-pod was used so that Fergie could ''focus on trajectory.''
One reward was a jet of whipped cream for a hat-trick: a fundamental reason behind Dwight Yorke's weight gain that season. The most treasured prize was the use of a police water cannon that I adapted to thunder out Coca Cola. This was held back for trophy-winning celebrations only. The enormous grin on Andy Cole and Teddy's sticky faces will stay with me forever. Happy days.
I should note that if a showpiece game was lost – like the 2003 FA Cup final – the Coke was swapped for liquid siphoned off from the away teams urinal trough. Fergie would scream "You think I'm taking the piss do you? Well maybe I am!" and then let loose on the canon like a Second World War fighter pilot, laughing maniacally and straddling the device because he liked "to feel the power between my legs".
In addition, he would boom out the song Easy by the Commodores from an in-built stereo imported from China. At this point, the players were forced to refer to him as 'Urinal Ritchie.' Strange, strange man.
The Last Straw
There's been a number of occasions in the past when I've come very close to handing in my notice. Back in 1996 we were at the Dell playing Southampton, the boys were getting a bit too chatty in the team-talk before the game and Fergie let rip with a flamethrower setting on Pandora. It certainly snapped the boys in to silence but it singed our red home strips to a crisp. Yep, believe it or not, that's how that god awful grey shirt came about.
Lee Sharpe sought legal action against the gaffer after discovering at half-time he had lost both eyebrows. Thankfully they settled out of court and Cantona – ever the gent – offered Lee snippings of his monobrow to tide him over.
This last week was the straw that broke the camel's back though. Fergie threw what only can be described as a 'shit-fit' after the Crawley game. A humiliating one-goal victory against a bunch of non-league postmen. The next day he asked me to meet him at the Salford branch of Nando's.
I turned up and, after ripping my shirt open to search for any hidden mics and asking if I had been ''tailed'', he finally sat down and ordered a jumbo platter. As he drizzled peri-peri sauce on his chicken with an unsettling glint in his eye, he called me close to his face and asked a truly shocking request: ''I need you to provide my hairdryer with…nuclear capability.''
I was stunned. Fergie had asked for heat-seeking missiles in the past to ''discipline'' an underperforming Jesper Blomqvist, but this was another level altogether. He passed me a plane ticket to Tehran, Iran, where I would go on a "scouting mission". He justified the audacious demand by saying that he "needed a nuclear deterrent against overpaid players putting in mediocre performances at home", and if he could just have the threat a of a nuclear holocaust up his sleeve, he genuinely believed that 25 goals could be squeezed out of Berbatov this season.
I told Fergie it was over right there and then. He told me that I was in too deep now and offered up a signed Karel Poborsky jock-strap if I stayed on-board. It was the one he wore scoring that superb lob at Euro 96 and there was a lovely certificate of authentication to go with it, but my mind was made up: my part in this tyranny must end.
I left with a doggy bag of chicken wings and, most importantly, my dignity intact. I collected my fabric softeners and spanners from Old Trafford the next day and in a rush of blood for redemption and retribution, I sought to hit Fergie where it hurts.
That's right, I took out the triple A batteries from the hairdryer. For the first time in decades I slept well knowing the bleak goalless draw with Marseille wouldn't end in an all-out changing room fruit-bat-based massacre. But I am only one man. The FA, the World Wildlife Federation and the United Nations – the rest is over to you.
Make the Fergie Hairdryer History.
Get more football drivel from Ben every Wednesday on the Off The Post Podcast.