The image below has been doing the rounds and it appears to split Old Trafford fans down the middle. You will see below the bench at the DW Stadium. On that bench you will see Ryan Giggs focused on the game and mentally prepared if needed. Either side of him you will also see Gabriel Obertan and Bebe, one listening to his Ipod and the other using his mobile. Now if that particular pair of Man United players had been bang in form then perhaps this wouldn't have irritated people so much, but as they have both performed like donkeys ever since their arrival at the club, then the image will of course conjure up feelings of displeasure among the club's supporters.
Watch Chelsea v Man Utd live streaming with GetSport.TV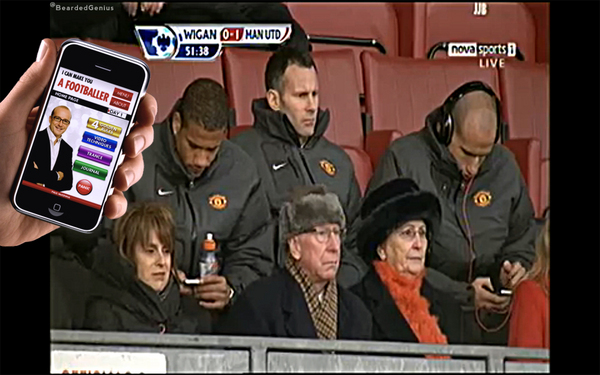 Here are below are the thoughts of the manager following the club's easy win over Wigan.
Sir Alex Ferguson claimed that the media would target Wayne Rooney after accusations he escaped a sending off in Manchester United's 4-0 win at Wigan.
Wigan boss Roberto Martinez said Rooney deserved a red card after an early off-the-ball incident with James McCarthy.
"It's quite clear he catches him in the face with his elbow," stated Martinez.
But Ferguson said: "There's nothing in it… [but] as it is Wayne the press will raise a campaign to get him hung or electrocuted, something like that."
Home supporters were incensed by Rooney's eighth-minute challenge on McCarthy for which referee Mark Clattenburg awarded nothing more than a free-kick to Wigan.
Nine minutes later United took the lead through Javier Hernandez's clever finish, after which they kept Wigan at bay thanks to goalkeeper Edwin van der Sar before eventually winning with ease.
"I saw the incident clearly, and the referee did as well because he gave the free-kick," added Martinez.
"Once you give a free-kick it is quite clear that it is a red card.
"When you look at the replay, it is quite clear he catches James McCarthy in the face with his elbow.
"If one of my players had done that, I would think he was very lucky to stay on the pitch.
"It is a big call in the game. It is unfortunate because the referee saw it, but he didn't feel it was a red card. It was not because he was Wayne Rooney. It was an incident in the game. That is it."
United's assistant manager Mike Phelan played down the incident.
"We can't dispute the referee's decision," he said. "He's kept the game flowing and we're happy with that.
"There should not be a witch hunt. The referee was consistent with all his decisions. We should lie low a little bit, and let the powers that be take [control of] the game."
United manager Ferguson took an even stronger view.
"I have had a chance to see it," he said. "There is nothing in it.
"It is unbelievable. Watch the press. It will be interesting to see it [their reaction to the claims from Martinez]."
Rooney could be punished by the Football Association over the McCarthy incident, with the governing body due to consider Clattenburg's report on Monday.
With a second Hernandez goal plus strikes from Rooney and substitute Fabio putting league leaders United four points clear of Arsenal, Ferguson was happy with the result.
"It is a good one because this is a difficult place to come," he said.
"For the first 20 minutes, Wigan were terrific. Van der Sar made three great saves and another fantastic one in the second-half."
Ferguson had hoped to have Ryan Giggs back from a hamstring injury, and Michael Owen available following a groin strain.
Neither made it, but Giggs does have an outside chance of being involved at Stamford Bridge when United face the champions Chelsea on Tuesday. (BBC Sport)