So is this real or fake? Could this be the shirt that the Gunners run out wearing at the Emirates next season? Spotted on EPL Talk.
Barcelona v Arsenal Tickets available at Tixdaq.com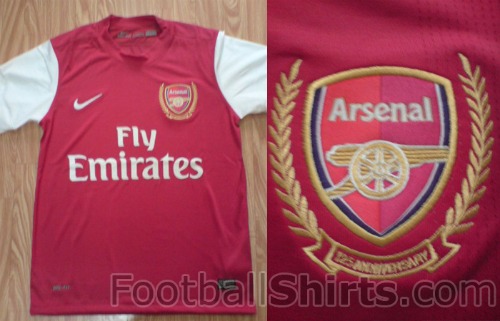 Or is this the shirt for next season?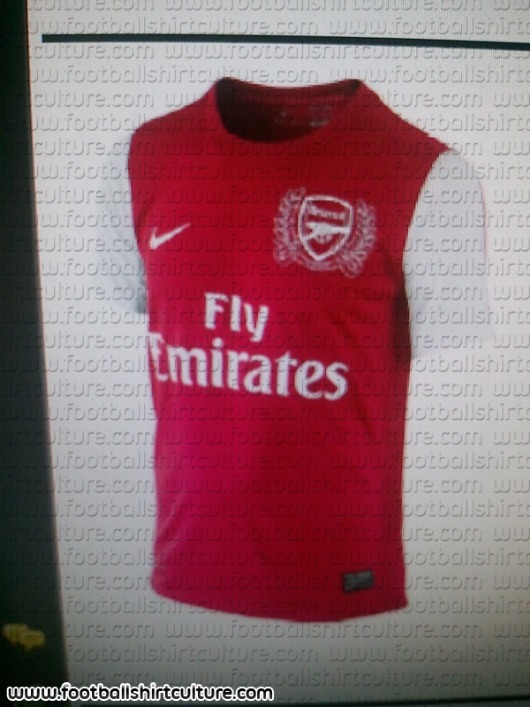 While were at it, here are the thoughts of Arsene Wenger and his players following the defeat to Birmingham City and the up coming big matches they face.
Arsenal manager Arsene Wenger refused to blame his players after their 2-1 Carling Cup defeat by Birmingham.
A mix-up between goalkeeper Wojciech Szczesny and defender Laurent Koscielny allowed Obafemi Martins to stroke the ball into an empty net on 89 minutes.
"A little misunderstanding had a great consequence on the game and both players are destroyed. I blame no-one," Wenger told BBC Sport.
"When these things happen late in the game, there is no time to rectify it."
Arsenal have not won a trophy since beat Manchester United on penalties to lift the 2005 FA Cup.
That wait for silverware goes on, with Wenger admitting the latest setback was "very hard to take".
The Frenchman added: "The players are disappointed but we have to pick ourselves up, that's what a team is about. It's a good opportunity to show our mental strength, which I think is great.
"We got what we expected from Birmingham. They are a team who fight very hard and cause a lot of problems from long balls.
"Congratulations to them – they got the trophy – but we have regrets with the way we conceded the [Martins] goal."
Wenger's reluctance to sign a keeper and a high-profile centre-back may again come under scrutiny following the mistake by summer signing Koscielny, 25, and Szczesny, 20.
Szczesny played in the 2-1 victory over Barcelona at the Emirates on 16 February, when the Gunners came back from a goal down to win the first leg of the last-16 Champions League tie.
He has coped impressively with his rise to the Arsenal first team but the youngster, who spent a spell last season on loan at Brentford, was making only his 16th outing for the Gunners and was chosen ahead of the more experienced Manuel Almunia for the Carling Cup final.
"What can you say? You have to be positive because he [Szczesny] is a young boy. He has to pick himself up from that goal and hopefully he can do that," said Wenger.
The Gunners boss revealed striker Robin van Persie, who equalised for his side in the first half after Nikola Zigic had put the Blues ahead, suffered a knee injury after the break.
"We are in good positions everywhere but we play so many games and we can't go on losing players," added Wenger.
"We lost Cesc Fabregas in the week and now Van Persie is not in good shape after this game. It's a knee problem. We will have to assess it on Monday."
In the aftermath of Sunday's defeat, some of Arsenal's players, including club captain Fabregas, who was missing with an injured hamstring, used the social networking site Twitter to offer their apologies and ask for the fans' continued support:
Fabregas: "Congratulations to Birmingham. This team has great potential and there are still great targets to play for this season. Thanks for your support."
Van Persie: "I'm very sorry that we didn't bring Carling Cup back to north London! Thanks for your support today! Sorry again!"
Bacary Sagna: "Just feel ashamed… sorry."
Jack Wilshere: "All I can say is sorry to the fans. It hurts a lot I know but we must all stick together, still in three other comps! We have to move on! Sorry."
Wilshere was also not happy with one of the Birmingham players who shoved Koscielny's head down as they ran across the Gunners goal to celebrate with matchwinner martins.
Wilshere tweeted on Monday: "Well done to the BCFC player who slapped Koscielny on the head when they scored, very big of you!"
However, Arsenal will not have much time to dwell on their defeat as they face an FA Cup fifth-round replay against Leyton Orient on Wednesday, with the winner drawn to play Manchester United in the next round.
The Gunners are also vying with United for the Premier League title.
If the Old Trafford side beat Chelsea on Tuesday, Wenger's team could be seven points behind their rivals going into their next top-flight game against Sunderland at the Emirates on Saturday.
Three days later, Arsenal will travel to the Nou Camp for the second leg of their Champions League tie against Barcelona. (BBC Sport)