Choose Sir Alex Ferguson's all-time best ever Manchester United players to have graced the Old Trafford turf.
Watch Chelsea v Man Utd live streaming with GetSport.TV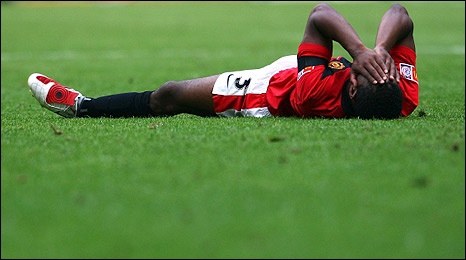 For 25 years Sir Alex has run the rule at Old Trafford.
He has chopped and changed his squad so much it would be easy to forgive him if he has forgotten some of those players.
But here at COS we want to know who his all-time best eleven would be – and we want you to help!
Vote for players in each position over the next few days and we will reveal the best eleven in the Fergie era on Friday.
In this episode we look at left-backs, so stay tuned and the only way to make sure your choice is selected is to vote. The poll that takes into account both left and right backs is on the right hand side of the screen.
Denis Irwin:
In 12 years at Old Trafford, he made 368 appearances, winning seven Premier League titles, three FA Cups, a League Cup and Champions League and Cup Winners' Cup honours. He was comfortable in either full back positions and an expert at free kicks and penalties. Genius.
Phil Neville:
Another member of the Fergie Fledglings. A local lad who followed his brother, Gary, into the first-team. Phil was a consistent performer and gave everything he could for the United cause. Helped win six Premier League titles, three FA Cups and the European Cup.
Gabriel Heinze:
Fans would sing  'Ar-gen-tina'  in honour of his combative displays – remembered mostly by opposition players for his scissor tackles. Relations turned sour when he demanded a move to Liverpool but he was still a great player for the Fergie cause.
Patrice Evra:
Substituted at half-time on his debut is about the only thing Evra has done wrong at United. Signed in 2006, Fergie turned him into the best left-back in the world. The Frenchman epitomises Fergie's fighting spirit and became a fan favourite with his winding-up tactics when facing Arsenal.
Sir Alex Ferguson & Manchester United Search For Best XI: Goalkeeper
Sir Alex Ferguson & Manchester United Search For Best XI: Right-Back