Stamford Bridge player will do what it takes to satisfy his desire for silverware.
Chelsea v FC Copenhagen Tickets available at Tixdaq.com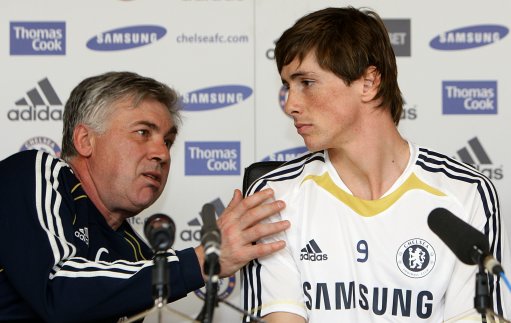 Chelsea striker Fernando Torres does not mind where or with whom he plays as long as the Blues win trophies.
Since his £50million signing from Liverpool in January, the Spanish international has played in a front two with Nicolas Anelka and Didier Drogba, and with all three.
The World Cup winner is yet to score for his new club but thinks once he gets used to the new system it will be a success.
"It's important to understand the style of football your team is playing, how you are involved in the system and everything," he said to the Chelsea magazine.
"But, I think, once you get it, everything becomes much easier. The important thing is to have different options in the way you play.
"All teams have different systems – they can play with one, two or three up front – so you have to be able to play up there on your own, with a partner or with people crossing the ball for you.
"I'm sure here at Chelsea I will play in different positions sometimes. I'm ready for this because I want to play where the manager asks me to – I know the competition is high here."
Torres admits to feeling the pressure after his big-money transfer but says he left Liverpool in order to win trophies.
"It was similar to starting at school," he added. "You are always a bit shy when you arrive on the first day and you want to do many things – go here, go there, train well, meet everyone.
"In a team like Chelsea you have to be ready to win every game and you know you can beat anyone and arrive in the final of any competition.
"I think when you are 40 or 50 and you can look back, the main thing will be, 'What did you do as a footballer?'.
"When people are talking about trophies and moments, you want to be in that picture – you want to achieve everything you can."
The 26-year-old knows he still has to prove himself to team-mates and to the fans after the goalless start to his career in West London has left him frustrated.
"I think when you make a decision this important you must be sure you can do it, otherwise it's not worth moving to a club like Chelsea," he said.
"I have confidence in myself, I have confidence in this team and I have tried to become involved in everything this team is doing from the first day."