I am afraid that we are duty bound by internet law to display this Nigel De Jong image every time we discuss the Eastlands midfielder.
Watch Man City v Aston Villa live streaming with GetSport.TV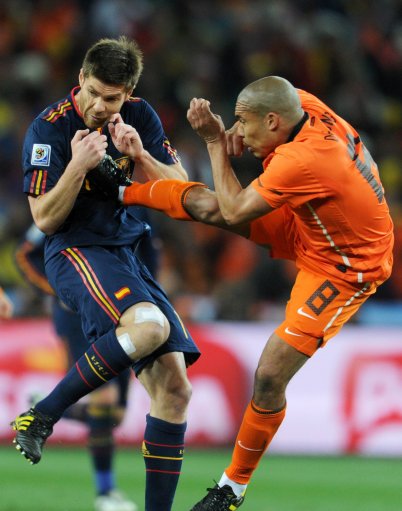 Manchester City are ready to offer midfield enforcer Nigel de Jong a bumper new £25m contract to keep him at Eastlands for the rest of his top-level career.
The Dutch international has been a key figure in the Blues' challenge for a Champions League spot this season.
And even though the 26-year-old is a little less than halfway through the four-and-a-half-year deal he signed in January 2009, boss Roberto Mancini is keen to tie him to the club well beyond the summer of 2013 and City are ready to offer him a new four-year £120,000-a-week contract.
The Blues are understood to want to conclude negotiations long before World Cup finalist De Jong reaches the last year of his current deal.
SOURCE: Manchester Evening News
Nigel De Jong is very much a 'marmite' type of player in the sense that either you love him or hate him. If your a Manchester City fan you probably do adore the Dutch international although you would probably fear for your safety if you happened to be in the club's car park with a football near your feet and the former Hamburg player was in the near vicinity.
The 26 year old is the kind of battler you would love to see in your side's starting eleven but at the same time would boo incessantly if he came up against your club. He is a crucial part of Roberto Mancni's plans and as such probably deserves a brand spanking new deal, but is he worth £25m?
Players who is appears will not be given a new deal and are likely to be shipped off this summer include some, and perhaps all, of the following. Craig Bellamy, Nedum Onouha, Roque Santa Cruz, Jo, Shaun Wright-Phillips, Joe Hart Felipe Caicedo and Emmanuel Adebayor to name just eight.