Former Emirates hero looks back with great fondness on the club and does not rule out a return.
Barcelona v Arsenal Tickets available at Tixdaq.com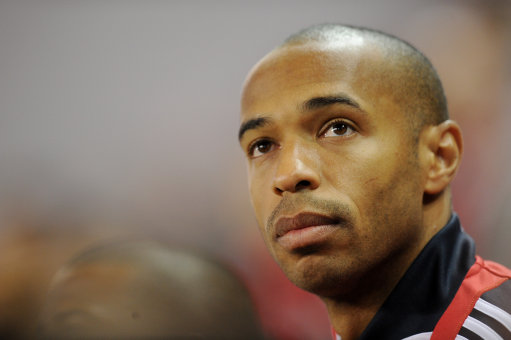 Former Arsenal striker Thierry Henry says he would love to return to North London in the future.
The Frenchman now plays his football in America with New York Red Bulls, but looks back fondly on his time with the Gunners.
"I hope one day I would love to go back there," he said to Reuters.
"I love that club and I just want to give as much as possible to this club, after what that club gave me.
"I know that the day Arsene (Wenger) leaves is going to be a difficult one, I don't know who can replace him. That is going to be hard.
"I have joked if I go back to be the kitman or the water boy, I don't mind, I just want to be back one day. When? I don't know. I just want to be back.
He now admits to being Arsenal's biggest supporter and hopes when his career finishes he will return to the Emirates in some sort of capacity.
"Oh yes, I became an Arsenal fan," he added.
"When I came to the club, I wanted to join Arsene again but I didn't know too much about the club.
"The likes of Tony Adams, David Seaman, Martin Keown, Lee Dixon, Nigel Winterburn, Ray Parlour taught me about Arsenal Football Club and what you need to do to wear that shirt and love that shirt. I love the club.
"Whenever I go back I feel like I have gone home, it's a big family and I became a fan.
"I knew what it was like to beat Manchester United, I knew what it meant to the fans when we were playing against Tottenham.
"You don't get that from one or two years, you need to live and breath Arsenal to understand that.
Henry is also full of praise for his former manager and mentor Arsene Wenger for resurrecting his career.
Thierry was playing on the wing for Juventus when Wenger bought him and played him as a centre-forward, turning Henry into the most dangerous striker in the world.
Henry also credits Wenger with changing the style of football at Arsenal, from the dour George Graham era, to the free-flowing passing approach used today.
"Arsene changed it," he said. "If you talk to any Arsenal fan, or even non-Arsenal fan, they will tell you they will watch Arsenal because they know they are going to see a football game.
"That is what Johan Cruyff did for Barcelona too – he brought that attacking mentality, that Dutch way, playing with wingers, playing the ball on the ground and Arsene did the same.
"To do that you have also to give credit to the club because you need your manager to be there for a long time.
"The club was intelligent enough to see what he was doing and give him time to build something and now everybody talks about the 'Arsenal way' of playing the game and that is really because of him."
So as a fan, what does Henry think of the progress of the latest star at the Emirates, Jack Wilshere?
"I spoke to the boss when I was back to train at Arsenal and I wouldn't say I was surprised because I knew the guy was very talented.
"I will say that he looks more mature than I thought he would look at this stage.
"He is good on the ball and you have to also say that he isn't scared to put his foot in.
"He doesn't look like a big lad but when he is out there, he puts his foot in, he has great vision on the ball. He is an Arsenal player.
The only problem he has with Arsenal these days is deciding which of his club record 226 goals was his favourite.
"Whenever I meet an Arsenal fan they all have one that they like, that's what is funny.
"You will always remember the one against Manchester United, the one against Tottenham, some would mention the one in Madrid, the back-heel against Charlton, and the one against Liverpool when we were 2-2 and had to win to make sure we wouldn't lose the league.
"Now, being out of Arsenal, they are all great, its difficult to choose one. They are all different. Some we really needed, some were a beautiful goal. It is weird to pick one."