There are some decisions that make you ponder the variables, consider the possible scenarios that could perhaps make a referee's judgement a problematic one. This however is as far as we can see, a clear cut dive. Watch the incident, see how occasional Chelsea player Yuri Zhirkov falls in the box when little or no contact is made with Chris Smalling. In fact the Russian is already falling before he even gets near to the Manchester United centre back.
Premier League Tickets Available from Tixdaq.com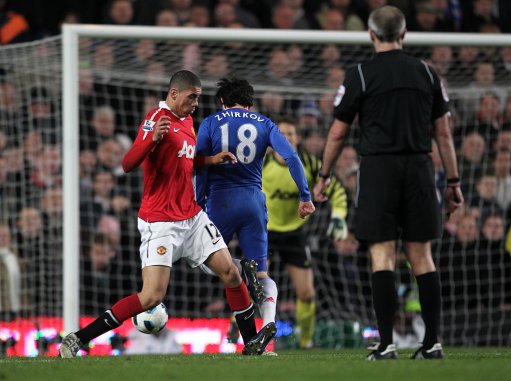 penalti gia chelsea
Uploaded by pankar23. – Basketball, baseball, pro wrestling and more sports videos.
Thoughts on referee Martin Atkinson's performances from both Manchester United boss Sir Alex Ferguson and Chelsea manager Carlo Ancelotti.
Manchester United manager Alex Ferguson said he "feared the worst" when Martin Atkinson was chosen to referee his side's 2-1 defeat by Chelsea.
United lost to a controversial 80th-minute Frank Lampard penalty, given when Yuri Zhirkov was brought down by defender Chris Smalling.
"You want a fair referee – or a strong referee, anyway – and we didn't get that," said Ferguson.
"When I saw who the referee was I did fear it. I feared the worst."
Ferguson was also incensed when central defender David Luiz was not shown a second yellow card for tripping striker Wayne Rooney on the edge of the Chelsea box.
Instead, Atkinson waved play to continue as Chelsea surged up the pitch before the Yorkshire official pointed to the penalty spot when substitute Zhirkov tumbled to the ground under Smalling's challenge.
"It was incredible. Even before that he [Luiz] had done Chicharito [Javier Hernandez] off the ball," said Ferguson.
"He'd done him late. Nothing done, the referee's in front of it.
"He does Rooney clear as day, [the referee is] six yards from it, he doesn't do anything. That changed the game.
"These are decisions that change the game. And he's going to be refereeing every week."
Atkinson refereed the corresponding fixture at Stamford Bridge last season and was criticised by Ferguson for awarding a free-kick which the Scot believed should never have been given, allowing John Terry to score the winner in a 1-0 victory.
"That's three years in a row now. It's hard to take," added Ferguson.
"The Luiz foul was six yards in front of the referee, maybe eight if we give him the benefit of the doubt, no obstructions whatsoever.
"I don't know how he [Luiz] stayed on the pitch. And the penalty was very soft. In actual fact, Chris has taken the ball and the player's left his leg in. Very soft. Amazing."
Chelsea boss Carlo Ancelotti admitted Luiz might have been fortunate to stay on the pitch, but refused to comment on Atkinson's other decisions.
"I don't want to judge them. I don't like doing this," he said. "Luiz's performance was very good, confirming the performance he made against Fulham."
The victory moves Chelsea one place up the Premier League table to fourth but Ancelotti's side trail United by 12 points. (BBC Sport)