Welsh wizard to be named in squad for visit of Sunderland to the Emirates.
Barcelona v Arsenal Tickets available at Tixdaq.com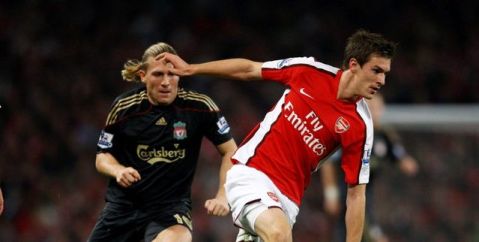 Arsenal midfielder Aaron Ramsey is expected to make his lon-awaited comeback for the Gunners against Sunderland on Saturday.
The 21-year-old has not played in the first-team since suffering a double-leg fracture in a tackle from Stoke City's Ryan Shawcross over a year ago.
Ramsey was sent on-loan by Arsenal manager Arsene We to Nottingham Forset and Cardiff City to regain match fitness..
The managers of both clubs wanted to keep the Welshman but manager Wenger decided to bring him back to play his part in Arsenal's bid to win the treble.
"There is a chance Aaron could be available in the squad for Saturday," Wenger told the club's website. "It will be very good to have him back.
"He is getting better and better now. We know he has a great engine, has great passing ability and can score goals aswell."
Ramsey's inclusion is likely to be the only change from the midweek squad that thrashed Leyton Orient 5-0.
Laurent Koscielny has a minor chance of recovering from his hamstring injury in time for Sunderland but will be back for the Barcelona tie on Tuesday.
Cesc Fabregas (hamstring) and Alex Song (knee) are definitely out and remain doubtful for the Champions League.
"We did not lose anyone last night. There is a meager chance we could have Koscielny back for Sunderland. But he is the only one we can hope to have available.
"Koscielny has a good chance [for Barcelona] though. His hamstring is getting much better and he is not completely out for Sunderland yet.
"However Alex Song is out on Saturday and he is doubtful for Barcelona. At the moment he has not practiced at all. He has this knee problem that gets better everyday. But we'll assess it on Monday.
"As for Cesc, we go day-by-day. We assessed him today and he is positive about his injury. We feel he has a chance. I do not want to disappoint people so I say he has 'a chance', I strongly believe that."