Merseyside club make plans just in case Pepe Reina leaves Anfield.
Liverpool Tickets Available from Tixdaq.com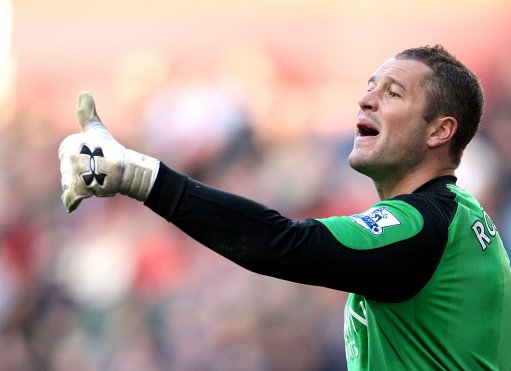 Reina can leave Anfield if a rival club triggers a £20 million escape clause in the Spaniard's contract and the 28 year-old admitted recently that he is keen to play for a club capable of "fighting for titles" after winning just one trophy – the FA Cup – since leaving Atlético Madrid for Liverpool in 2005.
Liverpool manager Kenny Dalglish said last month that he expected Reina to remain at the club in the long term, but it is understood that former England goalkeeper Robinson is being considered as a possible replacement should Reina be tempted away from Merseyside at the end of the season.
Edwin van der Sar's planned retirement at United this summer has raised the alarming prospect of Liverpool losing Reina to their bitter rivals, who visit Anfield this Sunday, but United are also watching Schalke's Manuel Neuer, Holland keeper Maarten Stekelenburg and Spanish youngster David de Gea.
Stekelenburg and Neuer are also on Liverpool's radar, along with Lyon's Hugo Lloris, but Robinson's resurgence at Blackburn since his £3.5 million arrival from Tottenham in 2008 has been noted at Anfield.
The 31 year-old is viewed as a risk-free option having performed at the highest level with England, and he can also point to Champions League experience during his formative years with Leeds United.
SOURCE: Daily Telegraph
Paul Robinson has been in fine form at Blackburn over the past three seasons and it is no surprise that Liverpool are considering the former England international as an adequate replacement for Pepe Reina should the club lose the Spaniard this summer.
Kenny Dalglish will hope that he can keep hold of Reina but reports stating his desire to play in the Champions League must worry the Liverpool boss and even though the Merseyside club are definitely moving in the right direction now that Roy Hodgson has left, it may not be enough to keep the 28 year old at the club.
Robinson was a mainstay at Tottenham for four seasons before he left for Ewood Park and though the former Leeds man is known for dropping some famous clangers he does have a safe pair of hands and may well be the most realistic replacement for Reina as the likes of Lloris, Stekelenburg, Neuer and de Gea are players who are continually linked with exits from their clubs whilst seemingly going nowhere.
Dalglish will look to cut some deadwood from the club this summer and the likes of Milan Jovanovic, Christian Poulsen, Paul Konchesky, Emiliano Insua and Philipp Degen look likely to leave whilst the Liverpool boss will do all he can to keep his big name players happy. The additions of Luis Suarez and Andy Carroll show a statement of intent the club's owners seem willing to dig deep to bring the right players to the club and £7m Robinson may well be a worthy replacement if needed, the fact that he has retired from international duty may also be a plus.