Players, managers and fans antics at Celtic Park were slammed by Police chiefs.
Premier League Tickets Available from Tixdaq.com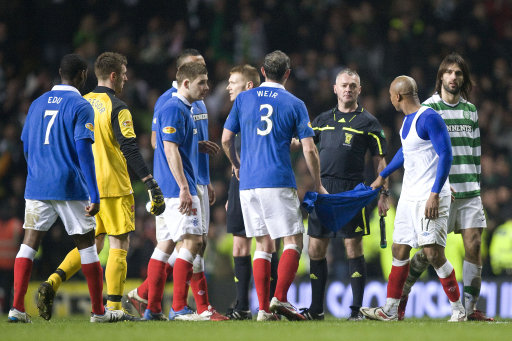 The Scottish Police Federation (SPF) chairman Les Gray has described the behaviour at last night's Old Firm Scottish Cup clash as 'disgraceful'.
The Celtic Park replay saw three Rangers players sent off, 34 arrests inside the stadium and several touch-line and tunnel confrontations amongst players and coaches.
SPF chairman Gray has called for action to be taken following a full investigation into events surrounding Celtic's 1-0 victory.
The SPF – the police officers union – called for a ban on Old Firm games in Glasgow, saying they led to too much violence.
Strathclyde Police will also crack down on drink-fuelled violence linked to the Old Firm game after trouble flared last night and in the previous match.
More than 229 people were arrested in the Strathclyde area the last time Rangers and Celtic met on 20 February in the league.
At that game 16 people were arrested within the grounds of Celtic Park for alleged offences of a sectarian nature.
Last night police made 34 arrests inside the stadium for a variety of sectarian, racial and breach of the peace offences.
This prompted Gray to say the behaviour of players, managers and some fans at the game was "nothing short of disgraceful".
"What happens on the pitch is replicated throughout the streets, the pubs and the clubs and the houses within Scotland," he told BBC Radio Scotland.
"The behaviour of all those involved last night was nothing short of disgraceful.
"Something needs to happen, I'm realistic enough to know that they'll probably never stop it but we need to have a serious look at it.
"They may have to look at playing the game behind closed doors for two or three times just to see how it goes.
"People may say it's a great advert for Scottish football but that wasn't much of an advert last night."
The game was a heated affair on the pitch too, with the referee dismissing three Rangers players and issuing a total of 13 yellow cards.
Rangers' forward, El-Hadji Diouf was the last player to be sent off after the final whistle for dissent and was involved in a touch-line spat with the Celtic coaching team in the first half.
Seconds after the final whistle, Rangers assistant manager Ally McCoist and Celtic manager Neil Lennon were involved in angry scenes.