Stanford Bridge striker wants revenge over London neighbours at Wembley.
Watch Blackpool v Chelsea live streaming with GetSport.TV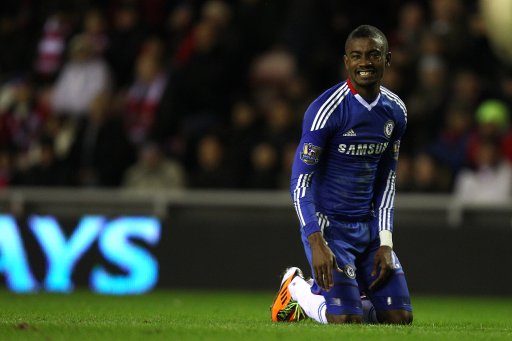 Chelsea striker Salomon Kalou is targeting a Champions League final against Arsenal due to the club's recent successes against the Gunners.

Arsenal's 3-1 win in December was their first over Chelsea for more than two years, but Kalou believes that triumph does not mark a significant shift.

While Chelsea are on course to reach the Wembley final after winning 2-0 at Copenhagen in the last-16 first leg tie, the Gunners face the unenviable task of defending a 2-1 lead at the Nou Camp.

"I would love an all-English final because we have a great record against the Gunners," Kalou said.

Kalou is backing Chelsea, who have won four Wembley finals since 2006, to become the first London club to lift the Champions League.

"If we get to the Champions League final, we will be playing at our lucky stadium, because we have won so many times at Wembley," he said.

Source: Soccernet
But why Arsenal?
Just because Arsenal beat Chelsea 3-1 at the Emirates?
Then why not Liverpool, Sunderland, Birmingham or Manchester City? All these teams beat Chelsea.
Of course none of them are in the Champions League and can face the Blues at Wembley but why do Arsenal get singled-out?
The reason is Kalou and Chelsea know they have been usurped by the Gunners as the closest contenders to Manchester United.
The Ivory Coast striker says there is no power shift from West London to North but the momentum is certainly with the Emirates team.
Arsenal may have missed out on an unprecedented quadruple but are still chasing the treble.
Chelsea are realistically only chasing the Champions League and face a battle to finish in the top four.
Surely a sweeter victory for Chelsea fans would be to beat Manchester United, possibly on penalties, in the Wembley showpiece?
Maybe Kalou is once again revealing his support for Arsenal and like many a Gunner fan wants to see Arsene Wenger's side in the Champions League final.
"Wenger said he thought of signing me? That's an honour for me, an honour" Kalou once said.
"He is a very great coach and I know that every single player in the world dreams of playing for him. I have a lot of respect for him, he is one of the best coaches in the world so why not?"