Emirates manager not happy at all.
Arsenal Tickets Available from Tixdaq.com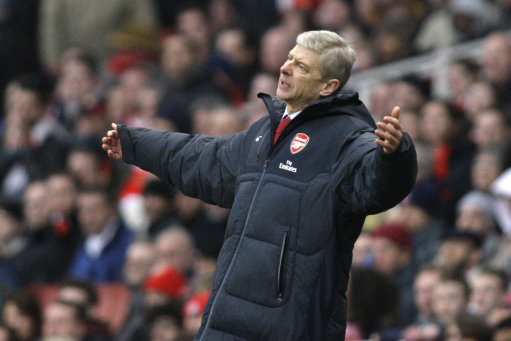 ARSENE WENGER blew his top at the 'disgusting' decision that put a dent in Arsenal's title dreams.
The Gunners were held in a stalemate with Sunderland — but only after Andrey Arshavin had a late goal wiped out for offside.
It means that Wenger's men are still three points behind leaders Manchester United.
And the Emirates boss fumed: "I am too disgusted to speak about these things.
"What can you say? We put a lot of commitment into the game. I believe Arshavin was not offside, but what can you do?
"These kind of things have too big an impact on the Premier League and we are really disappointed but we have to take it on the chin for the next game, but we feel really justice has not been done today and it is not the first time."
Wenger, who takes his side to Spain for a do-or-die Champions League clash with Barcelona on Tuesday, added: "It is another disappointment.
"You do not want to have things going against you, but what can we do? Now we just have to focus on Tuesday night."
Wenger is sweating on the fitness of Jack Wilshere for the Nou Camp clash, who today picked up an ankle knock.
The Gunners are already without Robin van Persie and Theo Walcott, while Cesc Fabregas is a doubt. (The Sun)
Whilst the disallowed goal should indeed have stood, and it was a very tight decision as opposed to a howler, it may be more pressing for Arsene Wenger to direct his anger at the errant finishing of some of his side before turning on the officials, as is his usual tactic.
I am all for shielding players from blame and sometimes it is better for morale to deflect attention from a poor display by implying that the only boundary to the collection of three points was imposed by poor refereeing and not the inability of Nicklas Bendtner to hit a whale's back side with a banjo.
The Danish international mucked up countless times and it's all well and good scoring a hat-trick against Leyton Orient but if you can't put away simple chances in crucial Premier League matches then you have to get your fair share of the blame.
The dropped points could prove crucial and the club's expanding injury list may also serve to suggest that Arsene Wenger's failure to bring in back up in January was an error on his part and again not another issue he can fob off on someone else.